Restaurant - Boyer
Market St.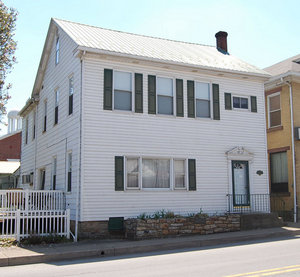 Click On Image To Enlarge
In 1945 the property was purchased by Wayne and Isabel (Anders) Boyer for use as a restaurant. Prior to marrying Wayne, Isabel was married to "Stu" Kirkwood and had operated a Tea Room across Market Street under the Kirkwood name. Isabel had purchased her tea room from Floyd Bashore and his wife Martha.

Wayne Boyer gutted the entire first floor of this second property next to the First National Bank and installed a steel beam for reinforcement and then renovated the first floor as a restaurant and the second floor as a residence. The new restaurant was operated from 1945 until it closed in 1952.

Unlike the tea room, the new restaurant was a full service operation. It had booths, tables and chairs and counter stools. The cash register was on the counter. The booths had individual juke box selectors.

The Boyer Family lived above the restaurant and remained living there until they moved to First (Water) Street at the end of 1954.
| | |
| --- | --- |
| | Contributed by rkohler3 on 3/7/13 - Image Year: 1950 |
| | Contributed by ray on 3/12/13 - Image Year: 1936 |
| | Contributed by rkohler3 on 3/13/13 - Image Year: 1949 |