Edgar Thompson GRAHAM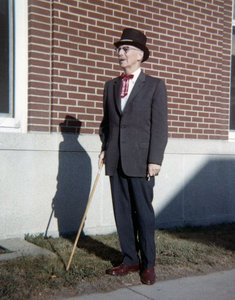 Click On Image To Enlarge
OBITUARY for EDGAR THOMPSON GRAHAM

PORT ROYAL: EDGAR T. GRAHAM, 79, of Market Street, Port Royal, died Tuesday, July 10 [1973], in the Lewistown Hospital.

Born Feb. 23, 1894 in Spruce Hill Township, Juniata County, he was a son of the late Samuel A. and Jennie Kelly Graham. He was married to the former Kathryn Beale.

In addition to his widow he is survived by one daughter, Mrs. William (Helen) Beers of Port Royal; one son, Donald K. of Kennett Square; and two grandchildren.

Mr. Graham was a retired assistant cashier of the Port Royal National Bank. He served with the U.S. Army during World War I, was a member of the Port Royal united Presbyterian Church, the Friendship Fire Co., the Independent Order of Odd Fellows no. 131 at Mifflintown, and the American Legion Post 298 at Mifflintown.

Services will be held Saturday at 10:30 a.m. in the Rex Funeral Home at Port Royal with the Rev. Eugene McCahan officiating. Interment will be made in the New Church Hill Cemetery. Friends will be received at the funeral home Friday from 7 to 9 p.m.
| | |
| --- | --- |
| | Contributed by rkohler3 on 7/29/11 - Image Year: 1930 |