Charles "Charlie" NAYLOR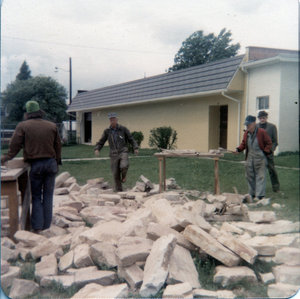 Click On Image To Enlarge
OBITUARY for CHARLES W. NAYLOR

CHARLES W. NAYLOR, 70, Port Royal RD2, died at 7:55 a.m. Saturday, March 17, [1979] in the Polyclinic Hospital, Harrisburg.

He was born Dec. 29, 1908 in Academia, a son of the late John and Susan Kline Naylor. He married the former Clara Hart, who survives.

Also surviving are children: Mrs. Walter (Cora) Boyer, Conroe, Texas; Mrs. Edwin (Doris) Solt, Lewistown, RD1; Mrs. Harry (Belva) Fulton, Port Royal RD2; Mrs. Richard (Thelma) Horning, Port Royal; John J. Naylor, Landisburg RD1; brothers George w. Naylor, Mifflintown RD; Harry S. Naylor, Port Royal RD2; Howard E. Naylor, Thompsontown RD1; and 12 grandchildren.

He was a retired stone and brick mason who worked for John Groninger Inc., Mexico. He was a member of the Port Royal United Presbyterian Church, the Turbett Grange 781 and the Port Royal Lions Club.

A funeral was held Tuesday afternoon in the Rex Funeral Home, Port Royal, with the Rev. Eugene W. Stambaugh officiating. Burial was in the Old Church Hill Cemetery, Port Royal.
| | |
| --- | --- |
| | Contributed by rkohler3 on 12/27/10 - Image Year: 1975 |
| | Contributed by ray on 12/27/10 - Image Year: 1975 |
| | Contributed by rkohler3 on 12/27/10 - Image Year: 1975 |
| | Contributed by ray on 12/27/10 - Image Year: 1975 |
| | Contributed by rkohler3 on 12/27/10 - Image Year: 1975 |
| | Contributed by rkohler3 on 12/27/10 - Image Year: 1975 |
| | Contributed by rkohler3 on 12/27/10 - Image Year: 1975 |
| | Contributed by rkohler3 on 12/27/10 - Image Year: 1975 |
| | Contributed by rkohler3 on 12/27/10 - Image Year: 1975 |