Josiah McCoy "Judge" BARTON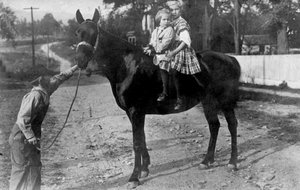 Click On Image To Enlarge
OBITUARY for JOSIAH MCCOY BARTON

J. M. BARTON, 69, 348 S. Wayne Street, Lewistown, salesman for the Switzer Chevrolet Company at Mifflintown, died at 9 o'clock Thursday, April 16 [1970] in the Lewistown Hospital following an illness of three weeks.

Mr. Barton was born at McCoysville, April 30, 1900, a son of the late Mr. and Mrs. Frank Barton.

He is survived by his wife, the former Ethel Shreffler; a son, Jack M. Barton of Lewistown; two sisters, Mrs. Melvin (Isabelle) Frankhouse and Mrs. Dwight (Helen) Hower of Port Royal; and four grandchildren.

Mr. Barton belonged to the BPO Elks 663 and the United Commercial Travelers of America.

Services were held in the Barr Funeral Home Monday morning in charge of Rev. Ralph E. Springman. Interment was made in the Juniata Memorial Park.
| | |
| --- | --- |
| | Contributed by rkohler3 on 12/27/10 - Image Year: 1912 |
| | Contributed by ty.barton69 on 3/16/14 - Image Year: 2014 |