Wilson W. "Jack" GOODMAN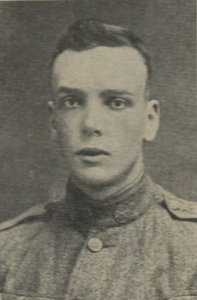 Click On Image To Enlarge
OBITUARY for W. W. "JACK" GOODMAN

PORT ROYAL W. W. (Jack) Goodman, 81, of Market Street, Port Royal, died at his home late Thursday [23 June 1977]. He was born Oct 2, 1895, in Turbett Township, Juniata County, a son of the late William and Carrie Reeder Goodman. He married the former Verna Z. Love, who survives.

Surviving are children, Mrs. Harold (Lena) Miller, Port Royal RD2; William, Center Point, Iowa; sisters and brother, Mrs. Vada Bailor, Main Street; Mrs. Verna Hummel, Main Street; Paul, Harrisburg, and two grandchildren. A daughter, Marjorie, preceded him in death.

He was a retired heavy equipment operator who in later life was employed by Juniata Lanes, Inc., Mifflintown RD2. He was an army veteran of World War I. He had served two terms as councilman for Port Royal Borough. He was a member of Port Royal Lutheran Church, American Legion Post 298, Mifflintown, of which he had been Past Commander, Juniata County Veterans Council.

Services will be held at 10:30 a.m. Monday in the Rex Funeral Home with the Rev. Donald Bailor, Goodman's nephew, officiating. Burial will be in New Church Hill Cemetery. The family will receive friends Sunday evening in the funeral home from 7 to 9 p.m. Military services will be conducted by the Juniata County Veterans Council.
| | |
| --- | --- |
| | Contributed by rkohler3 on 1/10/13 - Image Year: 1919 |
| | Contributed by rkohler3 on 12/24/10 - Image Year: 1918 |