Paul David TOWSEY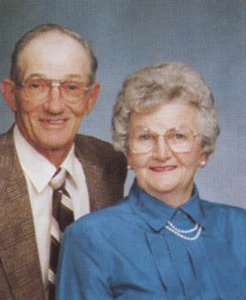 Click On Image To Enlarge
OBITUARY for PAUL D. TOWSEY

PORT ROYAL - Paul D. Towsey, 90, of Port Royal, died Tuesday, Oct. 22, 2013, at Locust Grove Retirement Village, Mifflin.

Born Dec. 22, 1922, in Port Royal, he was the son of the late Paul S. and Susan E. (Ritzman) Towsey. His wife of 65 years, Marian R. (Houtz) Towsey, whom he married Oct. 24, 1945, died on Sept. 12, 2011.

He is survived by: two children, Fred Towsey and wife, Linda, and Carol Milliken and husband, Marlin, all of Mifflintown; four brothers, Guy Towsey, of Mifflin, Marvin Towsey, William Towsey and James Towsey, all of Port Royal; five grandchildren; six great-grandchildren; and many nieces and nephews.

He was preceded in death by one brother and two sisters.

Paul served in the United States Army during World War II, for which he was awarded a Purple Heart.

He farmed all of his life and was a member of Port Royal Lutheran Church and Turbett Grange #781.

He was an avid hunter and fisherman and went on fishing trips to the St. Lawrence and to Canada. He enjoyed traveling with his wife, especially their trip west in the motorhome.

His funeral will be held at 10:30 a.m. Friday, Oct. 25, 2013, at Guss Funeral Home Inc., 20 S. Third St., Mifflintown, with the Rev. Charles Hershberger officiating. Full military honors will be accorded by the Juniata County Veterans Council after the funeral service. Interment will be in St. Stephen's Lutheran Cemetery, Licking Creek Valley, at the convenience of the family.

There will be a viewing from 6 to 8 p.m. Thursday, at the funeral home.

The family will provide all funeral flowers and asks that those who desire make memorial contributions to the Handicapped Accessibility Fund of Port Royal Lutheran Church, P.O. Box 267, Port Royal, PA 17082.

Condolences may be left at www.gussfh.com.
| | |
| --- | --- |
| | Contributed by rkohler3 on 12/15/10 - Image Year: 1978 |
| | Contributed by rkohler3 on 2/8/13 - Image Year: 1945 |
| | Contributed by rkohler3 on 2/8/13 - Image Year: 2012 |