V. Jean (THOMPSON) TAYLOR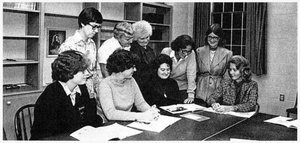 Click On Image To Enlarge
V. Jean Thompson was the daughter of Harry and Ella (Cox) Thompson.

OBITUARY for V. JEAN THOMPSON TAYLOR

V. JEAN TAYLOR, 68, of 401 Market St., Port Royal, died at 10:16 a.m. Sunday, June 16 at the Locust Grove Retirement Village, Mifflin, Star Route, following an extended illness.

Born January 29, 1917 in Mount Union, she was a daughter of the late Harry M. and Ella M. Cox Thompson. Her husband, John H. Taylor survives.

Also surviving are two sons: Robert J. Taylor, Oil City and Michael H. Taylor, State College; brothers and sisters: Harry M. Thompson, McClure; Mrs. Richard (Dorothy) Guirdy, Wallace, Idaho; Mrs. James (Alice) Presto, Salida, Colo.

Also, Mrs. David (Louetta) Davidson, Lewistown; Mrs. William (Anna) Carothers, New Canaan, Conn.; Mrs. L. Lee (Barbara) Sanchez, Willingboro, N.J.; Mrs. James (Nancy) Crager, Lewistown; Mrs. John (Ruth) Hoffman, Camp Hill; and three grandchildren.

The deceased was a 1935 graduate of Lewistown High School and an auditor for Port Royal Borough.

She was a member of the Port Royal Lutheran Church and was a Sunday School teacher for many years. She was a member of the L.C.W. and the S.S.S. class of the church.

Services will be held at 2 p.m. Wednesday at the Port Royal Lutheran Church with Rev. Dr. Robert W. Suder officiating. Interment will be in the Old Church Hill Cemetery, Port Royal.

Friends may call from 7-9 p.m. Tuesday at the Rex Funeral Home, Port Royal and the body will lie in state from 1 p.m. until the hour of the service Wednesday at the church.
| | |
| --- | --- |
| | Contributed by rkohler3 on 12/15/10 - Image Year: 1978 |