Edward "Eddie" CUNNINGHAM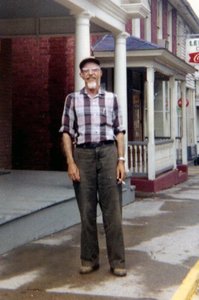 Click On Image To Enlarge
Edward "Eddie" CUNNINGHAM moved to Port Royal after he married Sarah Bailor. Eddie served as the sexton of the Port Royal Lutheran Church for a number of years.

OBITUARY for EDWARD D. CUNNINGHAM

Edward D. Cunningham, 83, of 105 3rd Street, Port Royal, died Friday, January 7, [1983] at the Holy Spirit Hospital in Camp Hill.

Born Feb. 8, 1899 in Parkersburg, he was the son of the late Albert Ray and Mary Elizabeth White Cunningham.

His wife, the former Sara Bailor, of Port Royal, survives.

Also surviving is a daughter, Mrs. Earl (Mary) Willi of New Cumberland.

Mr. Cunningham was a retired custodian of the Port Royal Post Office, and a former employee of the Pennsylvania Department of Highways.

He was known locally for providing entertainment on the violin.

Mr. Cunningham was a member of the Port Royal Senior Citizen Center.

The funeral was held Monday morning at the Rex Funeral Home in Port Royal with the Rev. Dr. Robert W. Suder officiating. Interment will be at the convenience of the family.
Contributed by mikey on 12/12/09