Frances Maxine "Frannie" (GILSON) LINDEMUTH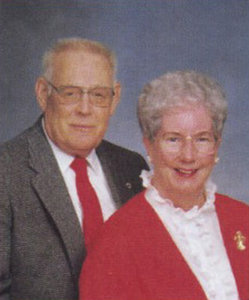 Click On Image To Enlarge
OBITUARY for FRANCES GILSON LINDEMUTH

PORT ROYAL: Frances G. Lindemuth, 78, of PO Box 126, Port Royal, died Thursday morning, March 10, 2005, at her home.

Born Oct. 13, 1926, in Port Royal, she was the daughter of the late Guy Patterson and Nellie (Weimer) Gilson. Her husband, Dean E. Lindemuth, who she married on Feb. 16, 1952, survives.

Also surviving are: a daughter, Mrs. David (Sherry L.) Reynolds, Middletown; a sister, Eleanor Griebel, Beverly Healthcare William Penn, Lewistown; and two grandsons, Todd and Joel Reynolds.

She was preceded in death by a brother, Gerald Gilson.

Mrs. Lindemuth was a retired Juniata County Prothonotary with 20 years of service. She was a graduate of Tuscarora Valley High School, Port Royal, class of 1944.

She was a member of Port Royal Lutheran Church, and was active in the adult sunday school class and Women of the ELCA of the church. She was also a member of the Mifflin Chapter 260, Order of the Eastern Star; Soroptimists International, Lewistown Chapter; General Thomas, Mifflin Chapter of the DAR Juniata County; DAC Lewistown Chapter; and Turbett Grange 781. She was also a former treasurer of the Juniata County Democrat Committee.

Funeral services will be held at 11 a.m. Monday at Port Royal Lutheran Church, with the Rev. Carol A. Hertler officiating. Interment will be in Old Church Hill Cemetery, Port Royal.

Friends may call 7-9 p.m. Sunday at the Rex Funeral Home, Port Royal.

Memorial donations may be made to: Port Royal Lutheran Church, PO Box 267, Port Royal, PA 17082.
| | |
| --- | --- |
| | Contributed by rkohler3 on 2/24/13 - Image Year: 1940 |
| | Contributed by rkohler3 on 11/12/10 - Image Year: 1944 |
| | Contributed by rkohler3 on 12/29/10 - Image Year: 1962 |
| | Contributed by rkohler3 on 12/27/10 - Image Year: 1962 |
| | Contributed by rkohler3 on 10/18/21 - Image Year: 1997 |