William Allen GRONINGER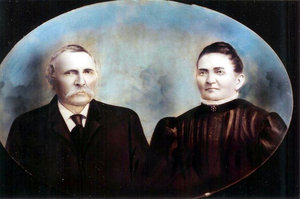 Click On Image To Enlarge
William Allen Groninger was born on March 5, 1875, the son of Elizabeth Matilda Kepner and Benjamin Creamer Groninger. He married Sarah Bertha McMeen the daughter of Robert E. and Elizabeth Robinson McMeen on March 25, 1896.

William was described as a well known citizen of Turbett Township who died at his home in Old Port on December 29, 1922, aged 47 years. Sarah Bertha, or Bertie, was aged 66 years, 6 months, and 8 days when was stricken with a heart attack in 1940.

They were active members of the Port Royal Presbyterian Church and its many different organizations and also were members of Turbett Grange.

The couple had four children: Elizabeth Matilda who married Joseph Wayne McCachren, Charlotte married to Dale Henry, Benjamin E. married to Marian Van Ormer, and Darwin married to Caroline Trucks.

WILLIAM'S OBITUARY

MR. WM. A. GRONINGER DROPS DEAD AT HOME

On Sunday afternoon about 1:40 o?clock, [29 Dec 1922] Mr. William A. Groninger, the well known insurance agent of Old Port was stricken with a stroke of apoplexy and dropped off a chair on which he had been sitting reading a newspaper, died instantly.

Just before he was stricken he was conversing with his son-in-law, Mr. J. Wayne McCachren who had just left the room when he heard a noise and turning around and saw Mr. Groninger sink to the floor and he rushed to his assistance, but life was extinct.

Mr. Groninger, seemingly was in the best of health and had not complained of being ill previous to being stricken.

The deceased was 47 years, 9 months and 26 days and is survived by his heart-broken wife and four children: Elizabeth, Mrs. J. Wayne McCachren of Port Royal; Charlotte, Mrs. Dale Henry of Mifflintown; Benjamin and Darwin at home. He is also survived by his aged mother and his following sisters and brother: Mrs. Wm. Selden, Mrs. Kenny Robinson and Mrs. Lucian Boyer of Turbett Township; Mrs Ira Nipple of Akron, Ohio; Mrs. Clara Kauffman of Philadelphia and Samuel Groninger of near Walnut.

?

Mr. Groninger was a member of the Port Royal Presbyterian Church, Turbett Township Grange and Tuscarora Lodge 556, I. O. O. F.

Funeral services will be held at his late home Wednesday afternoon and will be conducted by his pastor, Rev. J. L. Robison, after which internment will be made in Church Hill cemetery.
| | |
| --- | --- |
| | Contributed by ranjude on 2/3/21 - Image Year: 1919 |