Philip Loy "Phil" KILMER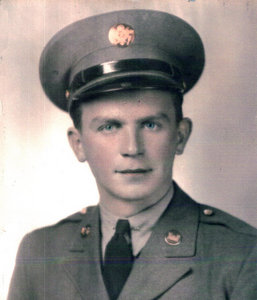 Click On Image To Enlarge
OBITUARY for PHILIP LOY KILMER, JR

PHILIP L. KILMER, JR., 66, of Tuscarora St., Port Royal, died at 3:45 a.m., Tuesday, May 10 [1983] at Cleveland Clinic in Ohio.

Born July 14, 1916 in Turbett Township, Juniata County, he was the son of the late Philip L. and Edith Lenona Gingrich Kilmer. His wife, Madelene McCready Kilmer, survives.

Also surviving are a son and a daughter, Philip L. Kilmer III of Market St., Port Royal and Mrs. Edwin (Carla) Zimmerman of Mifflintown Star Route; two sisters and a brother, Mrs. Paul (Margaret) Leister of McAlisterville, Mrs. Evelyn Ashton of Harrisburg, and Lee O. Kilmer of Port Royal R.D.2; and 4 granddaughters.

He was a 1936 graduate of Port Royal High School, and was a retired carpenter foreman, having been employed by Howard C. Gale and Son, Camp Hill.

He was a veteran of World War II, who served with the U.S. Army in the Pacific Theater for 43 months.

He was a member of the Port Royal United Presbyterian Church and was an active elder of the church; a member of the Port Royal Borough Council, the Port Royal Planning Commission, and a charter member and life member of the Port Royal Water Authority and local school board president.

Services were held at 2 p.m. Friday, May 13 at the Rex Funeral Home in Port Royal, with the Rev. Robert G. Campbell officiating. Interment was made in the New Church Hill Cemetery, Port Royal.
| | |
| --- | --- |
| | Contributed by rkohler3 on 10/20/10 - Image Year: 1964 |