J. Robert "Bob" STIMMEL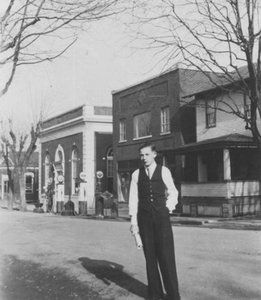 Click On Image To Enlarge
Joseph Robert Stimmel was the son of William Cloyd and Alba (Miller) Stimmel. He was born May 21, 1917 and died November 19, 1983. He married Dorothy Ernest and they had three sons: Joe, Gary and Ben. Bob operated the Stimmel Funeral Home in Port Royal for much of his adult life.

OBITUARY for J. ROBERT STIMMEL

J. ROBERT STIMMEL, 66, of 1 Fairway Drive, Selinsgrove and formerly of Port Royal died at 6:45 a.m. Saturday, November 19 [1983] at Polyclinic Medical Center, Harrisburg following extended hospitalization.

Born May 21, 1917 in Port Royal, he was a son of the late William Cloyd and Alba Miller Stimmel. He is survived by his wife, Dorothy Ernest Stimmel.

Two sons survive, Joseph R. Stimmel II, Harrisburg; Benjamin H. Stimmel, Washington Pa; four sisters, Mrs. William (Jane) Robinson, Port Royal R.D.2; Mrs. Shelley (Bette) Miller, Dix Field, Maine; Mrs. George (Ann) Hench and Mrs. Carl (Pauline) Zook, both of Newport; a brother, William C. Stimmel, Port Royal R.D.1; and three grandchildren.

[He was preceded in death by a son, Gary Walker Stimmel on November 1, 1973.]

Mr. Stimmel was the fourth generation director and owner of the Stimmel Funeral Home, Port Royal, having sold his practice in 1972 [to Walter Rex]. He was retired as Central Area Director of the Pennsylvania Emergency Management Agency.

He was a member of the Sharon Lutheran Church, Selinsgrove.

He was past master of Union Lodge, #324, F&A.M., Mifflintown; member of Ancient Excepted Scottish Rite Valley of Harrisburg and Zembo Temple A.A.O.N.M.S., Harrisburg; Pennsylvania Showman's Association and former board member of Juniata County Agricultural Society.

Services were held at 11 a.m. Tuesday at Rex Funeral Home, Port Royal with the Rev. J. Alien Snyder officiating. Interment will be in the New Church Hill Cemetery Port Royal.
| | |
| --- | --- |
| | Contributed by rkohler3 on 1/8/23 - Image Year: 1934 |
| | Contributed by rkohler3 on 12/26/10 - Image Year: 1947 |
| | Contributed by rkohler3 on 10/20/10 - Image Year: 1964 |