Mill - Old Port
Route 75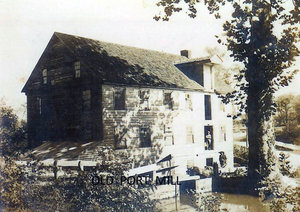 Click On Image To Enlarge
The Old Port Mill was built in 1839 by John Hertzler and was first used as a carding mill for the manufacture of blankets. (Carding is a mechanical process that disentangles, cleans and intermixes fibers to produce a continuous web or sliver suitable for subsequent processing.) Eventually it became a grist mill operated by the Hertzler family, which also owned and operated the Old Port Store. (Over the years it would also be operated by the following: Chester Naugle, Scott McLaughlin, William Patton, Samuel Goodman, Dean Bergstresser, the Telfer Brothers, E. O. Helwig, Dorn Hower, Lester Yohn and John Annlick.)

This flouring and grist mill is a stone and frame structure of three stories high, and has a capacity for eight bushels per hour or two hundred bushels per day. It runs two pairs of burr stones and one pair of choppers. Its machinery is all of the best make for the manufacture of a superior grade of flour, and is operated by an overshot waterwheel. A large home custom trade is done in the manufacture of flour and feed, also saw mill connected amounting to $1800 per annum. (This description is from a 1882 copy of the Port Royal Times.)

The mill received significant damage during the flood of March 1936. Water was into the second floor and much grain, fertilizer and flour was destroyed. Despite the fact that the dam was washed away by this flood, the mill returned to operation with alternate means of power.

Nancy Telfer Hess says that her father, Charles O. Telfer was one of the Telfer Brothers who owned the Old Port and Doyles mills during the 1936 flood. As the water was rising, he had someone row him to the Old Port mill to retrieve the business records before they were destroyed by the water.
| | |
| --- | --- |
| | Contributed by rkohler3 on 5/18/14 - Image Year: 2007 |
| | Contributed by rkohler3 on 9/10/09 - Image Year: 1900 |
| | Contributed by rkohler3 on 9/10/09 - Image Year: 1905 |
| | Contributed by rkohler3 on 9/10/09 - Image Year: 1910 |
| | Contributed by rkohler3 on 1/1/21 - Image Year: 1947 |
| | Contributed by rkohler3 on 2/7/12 - Image Year: 1913 |
| | Contributed by rkohler3 on 3/5/13 - Image Year: 1927 |
| | Contributed by rkohler3 on 3/8/13 - Image Year: 1928 |
| | Contributed by rkohler3 on 3/6/13 - Image Year: 1929 |
| | Contributed by rkohler3 on 3/12/13 - Image Year: 1936 |
| | Contributed by rkohler3 on 3/13/13 - Image Year: 1949 |
| | Contributed by rkohler3 on 3/8/13 - Image Year: 1950 |
| | Contributed by rkohler3 on 4/16/14 - Image Year: 1950 |
| | Contributed by rkohler3 on 8/24/14 - Image Year: 1950 |
| | Contributed by rkohler3 on 3/14/13 - Image Year: 1953 |
| | Contributed by rkohler3 on 9/10/09 - Image Year: 1950 |
| | Contributed by rkohler3 on 11/19/09 - Image Year: 1975 |
| | Contributed by rkohler3 on 12/3/09 - Image Year: 1975 |
| | Contributed by rkohler3 on 11/19/09 - Image Year: 1993 |
| | Contributed by rkohler3 on 11/19/09 - Image Year: 1993 |
| | Contributed by rkohler3 on 3/5/13 - Image Year: 1990 |