Creamery - Breyer's Ice Cream
Third St.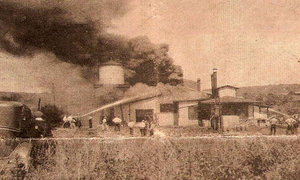 Click On Image To Enlarge
At one time a creamery was located on Third Street near the Tuscarora Creek. In 1912 the Breyer Ice Cream Company operated a creamery at the old railroad transfer about one-fourth mile north on Third Street. The following note appeared in The Port Royal Times of February 14, 1912: "Mr. Madden, representing the Breyer Ice Cream Company of Philadelphia was in town last week and made arrangements for starting work on Monday morning on the milk condensed plant that will be located here." The April 17, 1912 issue of the Times further reported: "The mechinery for the Milk Condensery in Port Royal is now being installed. A well 120 feet deep has been drilled and has 100 feet of water there which will furnish an ample supply of water."

For the present the large warehouse building of the Tuscarora Valley Railroad Company will be used for this purpose. The building will be lined on the interior and a concrete floor and vats will be put down, and other changes will be made. When the milk supply has increased to the amount to warrant it, a new concrete building with all the modern conveniences and an ice plant will be erected.

lt is thought that everything will be in readiness to start business on the first of April. C. Ross Maffet has taken the contract for cutting and housing 500 tons of ice for use at this plant during the coming summer."

In 1919, a new bulding was built, but it was destroyed by fire in 1932, and rebuilt on the same site. The rebuilt building was torn down in 1939 and replaced by a more modern structure.

Eventually, in 1964, the operation was transferred to Millerstown and the Port Royal Creamery was closed.

The following note appeared in the July 15 1964 edition of the Port Royal Times: "After more than 50 years of continuous service to farmers in the area, Breyer's Creamery Plant at Port Royal was closed recently. The plant had been in continuous operation (7 days a week) ever since it opened in 1912, except for a few months in 1943, when it was severely damaged by fire. The seven milk haulers who previously shipped to the local plants will now haul all milk to the Millerstown plant."
| | |
| --- | --- |
| | Contributed by letwet on 9/2/10 - Image Year: 1938 |
| | Contributed by ray on 3/1/13 - Image Year: 1938 |
| | Contributed by rkohler3 on 3/1/13 - Image Year: 1958 |
| | Contributed by rkohler3 on 3/1/13 - Image Year: 1960 |
| | Contributed by rkohler3 on 2/3/13 - Image Year: 1940 |
| | Contributed by rkohler3 on 10/17/19 - Image Year: 1957 |
| | Contributed by rkohler3 on 3/2/13 - Image Year: 1964 |
| | Contributed by rkohler3 on 3/1/13 - Image Year: 1964 |
| | Contributed by rkohler3 on 3/1/13 - Image Year: 1964 |
| | Contributed by rkohler3 on 10/17/19 - Image Year: 1940 |