Amy (PHILLIPS) SCHWOYER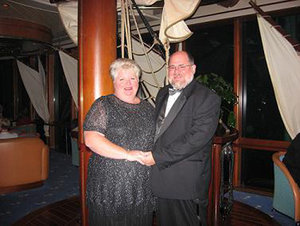 Click On Image To Enlarge
Amy was born in Black Hospital in Lewistown PA on January 26, 1963. The youngest child of Myron and Edie (Snyder) Phillips, she was born on her parent's 17th wedding anniversary. She lived on Tuscarora Street in Port Royal until 1966 when her family moved to the Old Port area. In 1971 her family again moved further outside of Port Royal to Mountain Road area along the Tuscarora Mountain. They lived there until 1992 when they moved back into Port Royal and lived on Milford Street beside MacBarney's.
When Amy was two, her mother started working again and she went to be sat by Anna Bird who lived on Second Street in Port Royal. Mrs. Bird also sat with several other children, all of whom were known very well in the community as Mrs. Bird would take them on daily walks to the Post Office, community store, and the fairgrounds.

Amy attended Tuscarora Valley Elementary School in Port Royal, Tuscarora Jr. High and Juniata High School (both in Mifflintown PA) graduating in 1981. She then attended Thompson Institute in Harrisburg PA. While attending college she started working part-time in the evenings at the PA Higher Education Assistance Agency (PHEAA) as a skiptracer. After college she started working full-time at PHEAA and worked her way up the "corporate ladder" and eventually became a computer programmer overseeing all mainframe changes to the student loan programming system for PHEAA. She retired due to health reasons in 2003. After taking a few years off in 2006 she started working part-time again as a secretary for the Lower Paxton Township Sewer Authority and at this writing is still employed there (2010).

As indicated above, she is the youngest and has six older brothers and sisters (Ben, Bonnie, Mary Louise, Joe, and Larry).

Her parents Myron and Edie passed away in 1997 and 2003, respectively, and her brother Ben passed away in 2006.

She moved to the suburbs of Harrisburg, PA for college but moved back home to Port Royal and commuted daily until 1994 when she moved to the Colonial Park suburb of Harrisburg. In May of 1999 she met Allan Schwoyer who is originally from Southampton PA in Bucks County north of Philadelphia. A year later in May of 2000 she was married in the Port Royal Presbyterian Church by Rev. Richard Wright and held her reception in the Friendship Fire Company Community Hall, both located on Forth Street in Port Royal.

She and her husband now live in the Paxtonia suburb of Harrisburg PA. Her husband is an International Logistics Provider for BDP International of Philadelphia and works at a branch office in Middletown PA.
| | |
| --- | --- |
| | Contributed by aajmccd on 8/22/10 - Image Year: 1963 |
| | Contributed by aajmccd on 8/22/10 - Image Year: 1964 |
| | Contributed by aajmccd on 8/22/10 - Image Year: 2002 |