Samuel Ronald "Sam" BASHORE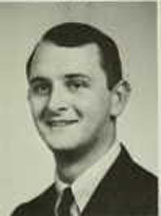 Click On Image To Enlarge
Samuel Bashore was the youngest of four children of Clinton and Melissa (Horning) Bashore. He was a graduate of Tuscarora Valley High School in 1962 and attended Bloomsburg University for his undergraduate degree, and Penn State (1969) for Master's Degree.

After 40 years, he retired from PA Government. In 1969 he married Marion Siegel. They have three children Melissa Blacksmith (Doug), Sarah Meiss (Paul) and Elizabeth Bashore.

He attributes many of his successes due to Port Royal friends, classmates, teachers and community fathers.


OBITUARY for SAMUEL RONALD BASHORE

HARRISBURG - Samuel Ronald Bashore, 67, of Harrisburg, passed away Thursday [Oct 6, 2011] at Holy Spirit Hospital.

Born July 13, 1944, in Port Royal, he was a son of the late Clinton F. and Melissa B. (Horning) Bashore. His wife, Marion "Mimi" Bashore, survives.

Samuel retired from the Commonwealth of Pennsylvania, Department of Education, as a Special Education Advisor. He was a member of Ridgeway Community Church of the Brethren, Harrisburg, Elks Lodge #12; he was a graduate of Bloomsburg State College and Penn State University.

He was a devoted husband, father and grandfather.

Surviving are three daughters: Melissa L. Blacksmith and her husband, Doug, of Mechanicsburg, Sarah L. Meiss and her husband, Paul, of Pittsburgh, and Elizabeth L. Bashore, of New Cumberland; one brother, Clinton Bashore, Jr., of Port Royal; two sisters: Audrey Monroe, of Port Charlotte, Fla., and Normalee Skogerboe, of Merlin, Ore.; and six grandchildren.

Funeral services will be held at 10 a.m. Tuesday, Oct. 11, at Ridgeway Community Church of the Brethren, 525 North Progress Avenue, Harrisburg, 17109. The Rev. Elizabeth Bidgood Enders will be officiating. There will be an evening viewing from 6-8 p.m., Monday, Oct. 10, at the Hetrick-Bitner Funeral Home. Burial will be held in the Church Hill Cemetery Association, Port Royal.

In lieu of flowers, memorial contributions can be made to Kickin for Kids, c/o Charlie Brown, 109 Salem Church Road, Mechanicsburg, 17050.

To share online condolence or for driving directions please visit www.hetrickbitner.com.
| | |
| --- | --- |
| | Contributed by rkohler3 on 8/13/10 - Image Year: 1945 |
| | Contributed by rkohler3 on 10/14/11 - Image Year: 1962 |