Dean E. BERGSTRESSER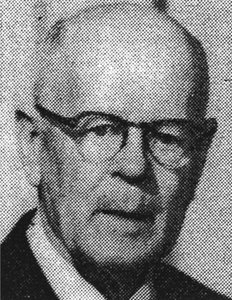 Click On Image To Enlarge
OBITUARY for DEAN E. BERGATRESSER:

DEAN E. BERGSTRESSER, Sr., 90, of Port Royal R.D. 1, [Old Port, Turbett Twp.] died Saturday, September 2, [1978] at 12:40 p.m. at his home. He was born Sept. 16, 1887, at Waterfall, Fulton County, a son of the late Daniel S. and Margaret Baker Bergstresser.

He married the former Mabel Abbott, who died in 1971. He also was predeceased by three sons, Daniel, Robert and Theodore Bergstresser.

Surviving are a son; Dean E. Bergstresser Jr. of Port Royal; three daughters, Mrs. Andrew (Ruth) Zendt of Mifflin, Mrs. Louise Barner of Port Royal R.D. 1, and Mrs. Quig (Marie) Hockenberry of East Berlin R.D.1; 10 grandchildren, and 15 great-grandchildren.

Mr. Bergstresser attended Shippensburg Normal School and Juniata College. He was a high school teacher, an elementary teacher, and served local normal school in Huntingdon County. He taught in the elementary schools in Juniata County.

He also engaged in the flour, feed and grain business in both Huntingdon and Juniata Counties. After selling the Old Port Feed Mill, he served as a rehabilitation counselor and supervisor for Juniata, Perry, Huntingdon and Mifflin Counties until his retirement in 1966.

He was a member of the Port Royal Methodist Church, where he served as a teacher of the Men's Bible Class and treasurer of the church for many years. He was a 50-year member of Turbett Grange 781, and a member and former treasurer of the Juniata County Easter Seal Society.

Funeral services will be held Wednesday, September 6, at 11a.m. in the Rex Funeral Home in Port Royal, with Rev. Glenn R. Scheib and Rev. Donald L. Shafer officiating.

Interment will be made in the Memorial Park section of the New Church Hill Cemetery at Port Royal.
| | |
| --- | --- |
| | Contributed by rkohler3 on 2/28/17 - Image Year: 1967 |