Bridge - Tuscarora Creek - Railroad
Tuscarora Valley Railroad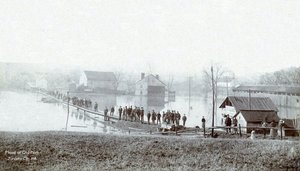 Click On Image To Enlarge
The Tuscarora Valley Railroad crossed the Tuscarora Creek from Port Royal to Old Port (Turbett Township) about 75 yards south of the Route 75 bridge that spanned the same creek. The two bridges ran parallel to each other and each was clearly visible from the other. It may be that there were two different bridges at the same location. If so the first would have been a wooden structure and the second a concrete structure. This idea is based on a picture that shows what appears to be a wood structure during a flood.

The rails of the concrete bridge were supported by concrete piers that contained 30-pound rails as reinforcing rod.

The piers are still in place and can be easily seen from the recently completed Route 75 bridge. (2009)

The last bridge in this series served the PRR rather than the TVRR and sits downstream from the first bridge pictured in the series.
| | |
| --- | --- |
| | Contributed by rkohler3 on 11/18/09 - Image Year: 1933 |
| | Contributed by rkohler3 on 11/18/09 - Image Year: 1934 |
| | Contributed by rkohler3 on 11/18/09 - Image Year: 1970 |
| | Contributed by rkohler3 on 11/18/09 - Image Year: 1985 |
| | Contributed by rkohler3 on 11/18/09 - Image Year: 1985 |
| | Contributed by rkohler3 on 9/1/11 - Image Year: 2011 |
| | Contributed by rkohler3 on 11/18/09 - Image Year: 1985 |
| | Contributed by rkohler3 on 11/18/09 - Image Year: 1985 |
| | Contributed by rkohler3 on 8/27/10 - Image Year: 1925 |
| | Contributed by rkohler3 on 8/24/19 - Image Year: 1890 |
| | Contributed by rkohler3 on 12/27/16 - Image Year: 1940 |
| | Contributed by rkohler3 on 10/30/13 - Image Year: 2013 |
| | Contributed by ray on 8/24/19 - Image Year: 1920 |
| | Contributed by rkohler3 on 8/24/19 - Image Year: 1920 |