Kathryn Elizabeth "Ip" (HETRICK) BURRIS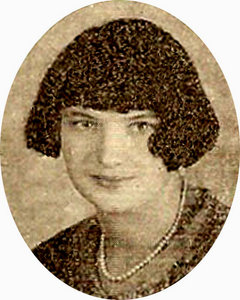 Click On Image To Enlarge
Kathryn Elizabeth Hetrick was born in 1908. She graduated from Port Royal High School in the Class of 1926. She was married to Lewis Carton Burris.


OBITUARY for KATHRYN ELIZABETH "IP" HETRICK BURRIS

Kathryn Elizabeth "Ip" Burris, 91, of Mifflintown, died at 1:30 p.m. Thursday, Dec. 9, 1999.

Born July 27, 1908, she was a daughter of the late Jerome and Laura (Cavney) Hetrick. She was preceded in death by her husband, Lewis Burris, in 1976.

Surviving are: two daughters, Shirley Leister of Palmetto, Fla. and Mercea Shields of Castro Valley, Calif.; a sister, Martha Frecon of Boyertown; four grandchildren and seven great-grandchildren.

She was preceded in death by two sons, John Burris and Lowell "Pete" Burris; two grandsons, Jeremy Burris and Thomas Shields; two sisters, Sarah (Hetrick) Wilson and Louise (Hetrick) Parnell, and brothers, Jerome Hetrick Jr. and Brady Hetrick.

She worked for 23 years as a seamstress at Shellenberger's Shirt Factory.

She was active in Trinity Lutheran Church in McAlisterville, the women's auxiliary of the Fayette Fire Company and the McAlisterville Senior Citizens Center.

In 1931, she and her husband moved to McAlisterville, where she lived until she became a resident of Brookline in Mifflintown in 1993 until her death.

A memorial service will be held at 2:30 p.m. Wednesday, Dec. 15, at Brookline Manor, Mifflintown.

In lieu of flowers, memorial contributions may be made to Brookline Manor or the Mifflin-Juniata Area Agency on Aging.
| | |
| --- | --- |
| | Contributed by ray on 1/26/18 - Image Year: 1976 |