Pomeroy Houses
First St. (Water)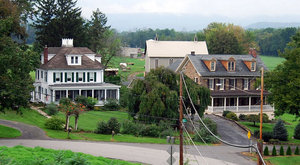 Click On Image To Enlarge
These houses were commonly referred to as the Pomeroy Homes in Port Royal. The Pomeroy family was prominent in the banking business. The houses are at the northern end of First "Water" Street, horizontal to how the other houses are situated on the street. It is believed that the stone house may have been one of the first houses built in the town.

During much of the last half of the 20th century, the white frame house was owned by Esther Pomeroy and the stone house was owned by Ellen and Pamela Pomeroy.

Sometime in the 1970s Jerry and Betsy (Esh) Book rented the White house.
| | |
| --- | --- |
| | Contributed by rkohler3 on 9/3/09 - Image Year: 2009 |
| | Contributed by rkohler3 on 7/14/11 - Image Year: 2009 |
| | Contributed by rkohler3 on 8/31/11 - Image Year: 2011 |
| | Contributed by rkohler3 on 9/3/09 - Image Year: 2009 |
| | Contributed by ray on 3/1/13 - Image Year: 1917 |
| | Contributed by rkohler3 on 9/3/09 - Image Year: 1917 |
| | Contributed by rkohler3 on 9/4/09 - Image Year: 1936 |
| | Contributed by rkohler3 on 5/5/14 - Image Year: 2007 |