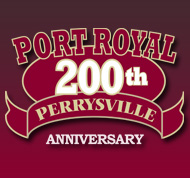 Paul Robert "Bob" BAKER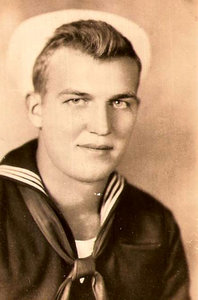 Click On Image To Enlarge
Paul Robert "Bob" Baker was born June 4, 1925 and died September 17, 2007. He was a son of David L and Etta (Homel) Baker. He was married to Dorothy "Dot" Margaret Gilson and they had two daughters, Beth Olivia and MeeCee Baker.

OBITUARY for PAUL ROBERT "BOB" BAKER

MCALISTERVILLE: Paul Robert "Bob" Baker, 82, of the Northridge Center for Assisted Living, R.R.2, McAlisterville, and formerly of Port Royal, died Monday, Sept. 17, 2007, at the Center.

Born June 4, 1925, in Lewistown, Mifflin County, he was the son of the late David L. and Etta (Hommel) Baker. His wife, Dorothy M. "Dot" (Gilson) Baker, whom he married on March 12, 1948, preceded him in death on Sept. 19, 2006.

He is survived by: one daughter, Dr. MeeCee Baker and her husband Dr. Robert Mikesell Jr.; one granddaughter, Elizabeth Baker-Mikesell, all of R.R.2, Port Royal; seven siblings, Elnora Zarkovich, Mifflintown, Martha Warner, Mechanicsburg, Etta Henry, Lewistown, Bruce Baker, Newburgh, N.Y., Nancy Francis, Quebec, Canada, Shirley Morgan, Lewistown, and Ray Baker, Mifflintown.

He was preceded in death by: one daughter, Beth Olivia Baker-Kirsty, on Feb. 8, 2006; three sisters, Freda Smith, Dorothy Baker and Betty Fultz; and four brothers, Harry Baker, Brown Baker, Daniel Baker and Harold "Big" Baker.

Mr. Baker was a member of the Port Royal Lutheran Church, a graduate of Lewistown High School and a Penn State University graduate with a certificate in agriculture.

He was a U.S. Navy, WW II veteran who served in the Pacific Theater and attained the rank of Fireman 1st Class, with the amphibious group. While serving as a physical education instructor on the ship, he sparred with Joe Louis and Glenn Tuney.

In earlier life, he was a self-employed farmer, before he had worked in sales at Kohler's Farm Supply, Port Royal. Later, he sold advertising for WJUN Radio, Mexico, and retired as a car salesman for Mertz Ford, of McAlisterville.

Bob was locally known as a talented baseball pitcher. One of his greatest amateur baseball accomplishments was as a member of a Lewistown All-Star Team when he had pitched against and defeated the professional traveling baseball team "House of David." This talent led to a career in the minor leagues, and, eventually, to the major leagues with the Brooklyn Dodgers.

Bob was an avid outdoorsman, who enjoyed hunting and fishing, as well as watching sports, especially, the New York Jets and the Philadelphia Phillies. A memory that he always cherished was when he watched the N.Y. Jets defeat the Baltimore Colts in Super Bowl III from the sidelines in the Orange Bowl.

Funeral services will be held at 11 a.m., Friday, Sept. 21, 2007, from the Port Royal Lutheran Church, 402 Market St., Port Royal, with Mr. Charles Hershberger, Pastor Craig Zendt and the Rev. Father John Bateman officiating. Interment will follow in the Old Church Hill Cemetery, R.R. 2 Port Royal, where full military burial honors will be accorded by the Juniata County Veterans Council.

A viewing will be held from 6 to 9 p.m., Thursday, Sept. 20, 2007, at the Brown Funeral Homes Inc. 100 Bridge St., Mifflintown, and there will be no public viewing or visitation on Friday at the church.

Memorial contributions in Mr. Baker's memory may be made to the Bob Baker Scholarship Fund (for students seeking secondary mechanical education), c/o the Mifflin-Juniata Career and Technology Center, 700 Pitt St., Lewistown, PA 17044.



COUPLE RECALL DIAMOND DAYS
(Juniata Sentinel – April 20, 2005)
By Carol Smith

When, as a young dating couple in the 1940s, Bob and Dot Baker first talked about diamonds, they weren't referring to a gemstone for her finger. They were discussing baseball—a passion for both of them that began in their youth and has carried through to their golden years.

Now residents of the Mifflintown area's Brookline retirement community, the Bakers have fond memories of days when they were not only fans of the game, but also players.

Dot's interest in the game developed because her cousin, Port Royal's Fred Frankhouse, was a big league player. "I idolized him," she recalls remembering, at the age of ten, knowing not only Frankhouse's baseball statistics, but also the batting averages of all of Frankhouse's teammates. She also remembers going with her sister and brother-in-law to Philadelphia's old Baker Bowl where Frankhouse's Brooklyn Dodgers were playing the Phillies.

"We peeked through the fence and saw that Fred's name wasn't in the lineup," she said, explaining that they later learned he'd been hurt and had remained in New York.

They stayed for the game anyway, giving Dot her first experience in a big league park—the size of which she likens to Juniata High School's Dietrick Field!

In the ensuing years, Dot would see many more Fields, as she not only excelled as a high school softball player, but also played in a "girls' league" established by the government during World War II. The league was created for morale purposes at home while so many of the country's young men were serving in the armed forces.

Dot explained that her team, whose home field was in the Walker Township village of Mexico, played evening games in the summer for "two or three years." Called the Hornets, they wore homemade uniforms and traveled to play teams at locations such as Ursinus College and Reading. Transportation to the games was via automobile-there was no money for buses, she said.

Dot, a second baseman, and the rest of the team played for fun rather than money, she said. The only people associated with the team who were paid were the coaches—first "Peck" Groninger and then "Peck" Crozier.

The local team seemed to serve its purpose well, as sizeable crowds came to watch their games, and special note of some of the players' talents was taken by certain spectators.

Considered outstanding players, Dot and Hornets' outfielder Mae Short were "recruited" by a Lewistown VFW team, so on days when the Lewistown team had games and the Hornets did not, the two women took the bus to Mifflin County to play for their second team.

"We rode Potter's bus," Dot recalled. "And there was a peanut shop where we'd wait for the bus up there after a game. Mae always went in and got peanuts."

Dot's ties to sports in Mifflin County don't end with the VFW softball team. She developed an affection for baseball in the neighboring county—and for one player in particular.

Bob Baker was an outstanding teenage athlete, and the couple actually met at a baseball game.

Baker served in the United States Navy during World War II, and, after the war, beginning in 1946, he returned to the baseball diamond, playing with East End, a men's team from Lewistown. It was while he was playing in Lewistown that he pitched against a famed House of David barnstorming team. The team was an Israelite group that became well-known for playing around the county, as well as for long hair and beards. They drew large crowds wherever they played, and it was quite an accomplishment to defeat them. Bob pulled off the nearly impossible and shut them out!

Professional scouts attended his games, and in 1946 Baker was signed to a professional contract by the Brooklyn Dodgers organization. He was given a $1,000 signing bonus and assigned to play in Thomasville, NC [one of 56 teams in the Dodgers' minor league system at that time]. He actually ended up having a ten-day "cup of coffee" with the big league club late one season, but never actually played in a major league game.

Getting to Ebbets Field [home of the Dodgers] was somewhat of a challenge for Baker. He planned to go first to Philadelphia to stay with Dot's sister for a night, and travel from there to New York. His first leg in the journey involved hitchhiking and he caught a ride at the "Shofstall's intersection."

"The first guy that picked me up was going to Broadway," Bob recalled.

His good fortune continued when the driver dropped him off on a New York City street, and he immediately recognized a man exiting one of the shops as someone with whom he'd served in the Navy. His fellow veteran directed him right to Ebbets Field!

Bob's path to Ebbets Field led through Port Royal, where he was recruited to pitch for a men's team between games of a doubleheader with McAlisterville. Baker recalls the Port Royal team had lost the first game "by 15 or 20 runs" and didn't want to suffer the same fate in the second half, so, knowing his reputation, they came to ask him to pitch.

He was working on a rural Port Royal farm at the time and remembers running a pitchfork into his foot when two team representatives came to talk to him. After he agreed to pitch, they found him a "pair" of baseball cleats—one size nine and one size 12. The size 12 was the much better fit; he managed to squeeze his other foot into the smaller shoe, but removed it for some comfort between innings.

Port Royal ended up defeating McAlisterville in the nightcap game by as large of a margin as they'd been defeated by in the first half of the doubleheader. Baker ended up with two sore feet—and a new team for which to pitch.

Baker's key pitch was the fast-ball, at least before he "threw out his arm" while playing in the minor leagues [in addition to playing in the Brooklyn Dodgers organization, he also played in the Philadelphia minor league system]. After suffering the arm injury, he said, his velocity greatly decreased and he left professional baseball in 1950.

"I got hurt and nobody wanted me," he commented. "Everything has to come to an end."

Bob's father always attributed his son's departure from the sport to something other than the injury. He was sure it had something to do with whom Bob left behind.

Bob and Dot were married in 1948, but Dot chose to remain in central Pennsylvania and did not follow her husband on the minor league circuit, which he says was not very glamorous.

"You played until about eleven o'clock at night, took a shower, got on a bus and drove until four in the morning. You'd have a manager mad because you'd lost and he'd tell you to be out on the field for practice at seven o'clock."

After he left professional baseball, Bob returned to Pennsylvania and he and Dot raised their two daughters. Although their playing days are long behind them, the couple, who now have one granddaughter, have retained an interest in baseball. Among their prized possessions is a baseball from a July 12,1943 All-Star exhibition game played, for morale purposes, at Fort Hamilton in New York. Given to Dot by Fred Prankhouse, the ball bears signatures of players who participated including Leo Durocher, Fred Pitzsimmons, Bobby Bragan, Johnny Alien, Ed Head and Mickey Vernon.

They're also both still Phillies fans, and whenever they watch a game on TV, the crack of the bat and the calls of the umpire are music to their ears—as appealing as a verse of Take Me Out to the Ball Game," which always serves as a reminder to Dot of her onetime teammate's fondness for peanuts.
Contributed by rkohler3 on 7/28/11 - Image Year: 1992

Contributed by rkohler3 on 2/29/12 - Image Year: 2005

Contributed by rkohler3 on 2/29/12 - Image Year: 1940

Contributed by peterswilliam104 on 3/27/14