Kenneth McCoy GILSON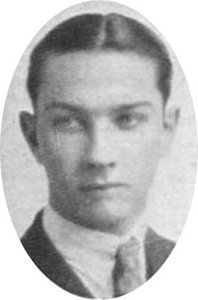 Click On Image To Enlarge
Kenneth McCoy Gilson was the son of John McCoy and Edith M. (Calhoun) Gilson. He was born January 19, 1909 and died January 15, 1990. He graduated from Port Royal High School in the Class of 1927. He was married to Arlene Potter and they had a daughter: Joyce.

OBITUARY for KENNETH MCCOY GILSON

KENNETH McCOY GILSON, 81, of Rt. 5 Box 357-B, Rutherfordton, NC, died Tuesday, January 15, 1990 at his home after a prolonged illness.

He was born January 19, 1909 in Altoona, PA, the son of the late John McCoy and Edith Calhoun Gilson. He had moved to the Rutherfordton area four years ago from Vero Beach, FL, where he had retired after working as a supervisor for the, Southeastern Rack Company in Vero, for 22 years.

Prior to living in Florida, he had lived in Port Royal and had been employed at the Standard Steel Works, Burnham, for 18 years.

Mr. Gilson was a [1927] graduate of Port Royal High School. He was a member of Rock Spring Baptist Church, Rutherfordton.

He is survived by his wife, Arlene Potter Gilson, one daughter, Joyce Foshie, and his son-in-law, Edward Foshie, both of Rutherfordton, NC, one sister, Anna Margaret Wingard of Ft Pierce, FL; one brother, David H Gilson of Seville, OH; one grandson. Rick Foshie of Rutherfordton; and one great-granddaughter.

Funeral services were held Friday at Crowe's Funeral Home, with interment at Sunset Memorial Park, Rutherfordton.
| | |
| --- | --- |
| | Contributed by rkohler3 on 5/23/18 - Image Year: 1927 |