Noah Hertzler "Nonnie" GILSON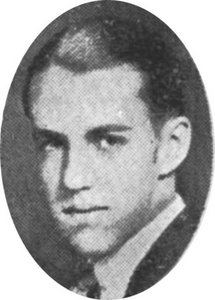 Click On Image To Enlarge
Noah Hertzler "Nonnie" Gilson was the son of Ross Headings and Laura Grace (Hertzler) Gilson. He was born September 18, 1910 and died January 23, 2002. He graduated from Port Royal High School in the Class of 1930. He was married to Evelyn Geraldine Yoder.

OBITUARY for NOAH HERTZLER "NONNIE" GILSON

NOAH H. GILSON, 91, Main St., Port Royal, died Wednesday, January 23, 2002 at the Lewistown Hospital.

Born September 18, 1910 in Milford Township, Juniata County, he was the son of the late Ross Headings Gilson and Laura Grace (Hertzler) Gilson.

His wife, Evelyn (Yoder) Gilson died July 30, 2000.

Surviving are: two daughters, Mrs. William (Suellen G.) Renz of Perkasie, Judy E. Gilson of Hershey; three grandchildren and three great-grandchildren.

Being the last of his immediate family he was preceded in death by one brother, William Ross Gilson and an infant sister, Mary Ellen Gilson.

He was a 1930 graduate of the Port Royal High School.

In 1975 he retired, with 49 years of service as a truck driver.

Mr. Gilson was a member of: the Port Royal Presbyterian Church; a life member of the Moose Lodge #143, Lewistown; and a social member of the American Legion Post #298, Mifflintown.

Services were held Monday, January 28 at Rex Funeral Home, Port Royal, with the Rev. Harold Rockey officiating. Interment was in New Church Hill Cemetery, Port Royal.

Memorial donations may be made to the Port Royal Presbyterian Church, PO Box 387, Port Royal, PA 17082-0387.
| | |
| --- | --- |
| | Contributed by rkohler3 on 4/4/12 - Image Year: 1930 |
| | Contributed by rkohler3 on 4/7/12 - Image Year: 1990 |