Bank - First National
Market St.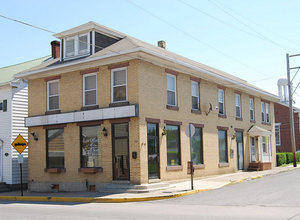 Click On Image To Enlarge
The First National Bank of Port Royal was established in 1919, with a capital stock of $40,000. The first officers were: Hon. John A. Kohler, president; Dr. Amos W. Shelly, vice-president; and George W. Couch, cashier. Edgar A. Ulsh became the cashier in 1921.

Prior to the construction of a new bank building, Fred Carpenter had a clothing store on this corner. Eventually Samuel S. Beaver also had a clothing store at the same location. In 1912, Beaver moved across Market Street to a new location. This new location would later serve as a clothing store owned by Luther Beaver and still later Glen Kepner, Sr.

Local Builder Stephen Alexander Douglas McLain helped to build the First National Bank Building. Part of his compensation was stock in the bank.

The First National Bank Building served as a bank until it merged with the Port Royal National Bank, the Farmers National Bank and the Juniata Valley National Bank in 1964.

The following note about the merger appeared in the Dec. 16, 1964 issue of the Port Royal Times: "C. A. White, president of The Juniata Valley National Bank, Mifflintown; C. A. Musser, president of the Farmers National Bank, McAlisterville; Alton Meloy president of the Port Royal National Bank, Port Royal; and John Book, president of the First National Bank of Port Royal, take pleasure in announcing that the Board of Directors of each of the banks have approved a plan to merge the four institutions. This action is subject to the approval of the shareholders of the banks, and the approval by Federal banking authorities. The combined bank will operate as a national bank under the name of the Juniata Valley National Bank. The merger will result in a bank with total resources exceeding $16,000,000 capital and surplus of $1,530,000 and a legal lending capacity of $153,000 to any one borrower."

After the merger this building served as the home of the Tuscarora Valley Finance Company and the Century 21 Real Estate Office. More recently is served for a short time as a law office. There are two apartments in the building, one above the office space and one to the rear of the building. Park and Lillian Gerhart lived in the rear apartment before purchasing the residence on Town Lane. Later the Edgar Ulsh family lived there followed by the Shaffers and Don and Sylvia Kepner.
| | |
| --- | --- |
| | Contributed by rkohler3 on 9/7/09 - Image Year: 1922 |
| | Contributed by ray kohler on 8/28/09 - Image Year: 1930 |
| | Contributed by rkohler3 on 9/11/09 - Image Year: 1954 |
| | Contributed by ray on 3/10/13 - Image Year: 1975 |
| | Contributed by ray kohler on 8/23/09 - Image Year: 2002 |
| | Contributed by rkohler3 on 5/25/14 - Image Year: 2007 |
| | Contributed by rkohler3 on 9/11/09 - Image Year: 1923 |
| | Contributed by rkohler3 on 9/4/11 - Image Year: 1920 |
| | Contributed by rkohler3 on 5/15/12 - Image Year: 1920 |
| | Contributed by rkohler3 on 8/22/11 - Image Year: 1925 |
| | Contributed by rkohler3 on 9/21/10 - Image Year: 1929 |
| | Contributed by rkohler3 on 9/26/12 - Image Year: 1930 |
| | Contributed by rkohler3 on 3/5/13 - Image Year: 1927 |
| | Contributed by rkohler3 on 3/6/13 - Image Year: 1929 |
| | Contributed by rkohler3 on 3/10/13 - Image Year: 1930 |
| | Contributed by rkohler3 on 11/26/09 - Image Year: 1889 |
| | Contributed by rkohler3 on 11/26/09 - Image Year: 1904 |
| | Contributed by rkohler3 on 11/26/09 - Image Year: 1911 |
| | Contributed by rkohler3 on 11/26/09 - Image Year: 1928 |