Laundromat - Port Royal
Sixth St.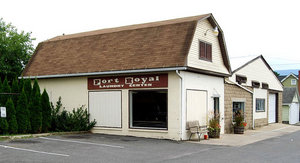 Click On Image To Enlarge
This building sits behind 515 Market Street. The garage was originally built by Sterner C. Houck. (This garage was built between 1911 and 1928 because it does not appear on the Sanborn Fire Insurance Map of 1911 but it does appear in their 1928 map.)

During the middle part of the Twentieth Century the building served as the dealership of Joseph Frankhouse. Joe Frankhouse sold Pontiacs and Buicks and repaired and serviced cars in this building. For approximately thirty years the office and showroom area of the building has housed in the current Laundromat area.
| | |
| --- | --- |
| | Contributed by rkohler3 on 4/9/12 - Image Year: 2011 |
| | Contributed by rkohler3 on 9/12/11 - Image Year: 1948 |
| | Contributed by rkohler3 on 3/11/13 - Image Year: 1950 |
| | Contributed by rkohler3 on 11/13/09 - Image Year: 2010 |