Farm Supply - Wisehaupt - Kohler
Second St.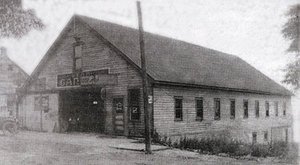 Click On Image To Enlarge
Calvin and Maggie Kepner owned the lot before the current structure was built. They had two cows that grazed on the lot and they sold milk to the townspeople.

Frank Wisehaupt purchased the property and built the building and operated a garage out of it. In addition through the years the building has been used as a garage by the Frazer Brothers, Earl and George; Mr. Cupp, Holt Taylor, Frank Eby and Charles McConnell. It was used as a bowling ally and pool room by Forrest Hubler, Herbert Crozier and Noah Hertzler. Lorraine O. (Cricket) Shellenberger had a barber shop in part of the building before he moved to the Market and Third Street location.

During the 1940s the building was purchased by Warren M. Kohler. Warren and his son Warren B. Kohler operated the business as W. M. Kohler & Son. After the retirement of the elder member, Warren B. Kohler changed the name to Kohler Farm Supply. When the business first started it sold International Harvester (Farmall Tractors) and New Idea Farm equipment. Warren B. Kohler discontinued the sale of tractors and farm equipment. It then focused on home appliances and lawn tractors. It has been owned by several owners since Warren B. Kohler's retiremet.
| | |
| --- | --- |
| | Contributed by ray on 3/14/13 - Image Year: 1900 |
| | Contributed by rkohler3 on 6/12/20 - Image Year: 1925 |
| | Contributed by ray on 3/6/13 - Image Year: 1929 |
| | Contributed by kohler3 on 8/29/09 - Image Year: 1946 |
| | Contributed by rkohler3 on 8/29/09 - Image Year: 1946 |
| | Contributed by rkohler3 on 6/13/20 - Image Year: 1958 |
| | Contributed by rkohler3 on 3/13/13 - Image Year: 1949 |
| | Contributed by rkohler3 on 3/14/13 - Image Year: 1955 |
| | Contributed by rkohler3 on 3/14/13 - Image Year: 1953 |
| | Contributed by rkohler3 on 11/26/19 - Image Year: 1994 |
| | Contributed by rkohler3 on 9/25/09 - Image Year: 2002 |
| | Contributed by admin on 8/3/09 - Image Year: 2009 |
| | Contributed by rkohler3 on 8/15/19 - Image Year: 1990 |