Funeral Home - Stimmel - Rex
Market St.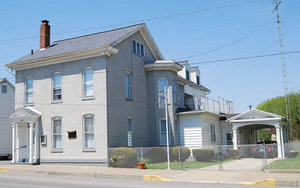 Click On Image To Enlarge
For much of the town's history the funeral business was dominated by four generations of the Stimmel family. Currently the business is owned and operated by Walter Rex.

It was about 1825 that the first undertaking establishment was opened in Perrysville, now Port Royal, by Benjamin B. Stimmel. It was located on what is known as the Ira Kilmer property, on First Street. Benjamin B. Stimmel, who conducted the business, was one of four brothers to emigrate directly from Germany.

At that time the methods, and practices of the profession were rather crude. The body was measured with a string and then a coffin was made to fit, and the use of ice was the only means of body preservation.

Prior to 1883 the conveyances were horse drawn carriages. At last a one-horse closed carriage was used. Later a two-horse hearse with plate glass sides was advertised as a specialty. In 1924 the first motor hearse in Port Royal was purchased.

In later years the business was moved to Market Street to the southwest corner of the intersection of Market and Fourth Streets. Here was established a cabinet shop to manufacture furniture and coffins, which were now carried in stock. (See casket invoice.)

In 1883 Joseph W. Stimmel, son of Benjamin, built a home and place of business on the present site of the Rex Funeral Home, and the business, at that time owned by him and his brother Franklin, moved to this location. After the death of Joseph W. Stimmel in 1917 his son, William Cloyd Stimmel became the sole proprietor. In 1926 the first funerals were held from this home as a Funeral Parlor. Prior to this time funerals were held either from the home of the deceased or from a church in the locality in which the death occurred.

In 1928 W. C. Stimmel died and the business was carried on by his widow, Alba (Miller) Stimmel, who was licensed as a funeral director in 1930. At the time, Mrs. Stimmel was the only licensed woman funeral director in Juniata County.

In 1940 J. Robert Stimmel was licensed and in 1947-48 the home was remodeled into a modern funeral home. Eventually Robert sold the property and business to Walter Rex who has operated it through the present (2009).
| | |
| --- | --- |
| | Contributed by rkohler3 on 9/11/09 - Image Year: 1877 |
| | Contributed by rkohler3 on 8/3/09 - Image Year: 1883 |
| | Contributed by rkohler3 on 8/3/09 - Image Year: 1962 |
| | Contributed by rkohler3 on 3/9/13 - Image Year: 1910 |
| | Contributed by rkohler3 on 3/6/13 - Image Year: 1930 |
| | Contributed by rkohler3 on 3/13/13 - Image Year: 1949 |
| | Contributed by rkohler3 on 3/14/13 - Image Year: 1953 |
| | Contributed by rkohler3 on 11/25/09 - Image Year: 1889 |
| | Contributed by rkohler3 on 11/25/09 - Image Year: 1904 |
| | Contributed by rkohler3 on 11/25/09 - Image Year: 1910 |
| | Contributed by rkohler3 on 11/25/09 - Image Year: 1928 |