Emergency Medical Services
Milford St.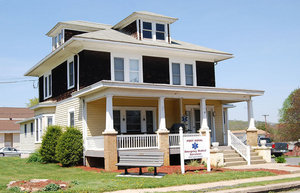 Click On Image To Enlarge
This is the Emergency Medical Services Building and sits next to the Friendship Fire Company and Port Royal Community Building.

Prior to serving this current purpose, this property contained a blacksmith shop owned by Clark Taylor. After Taylor it was owned by "Doc" Phillips who operated a drug store on Market Street. Eventually the property became the home of the Bailor and Sheerer families. Charles E. and Dorothy (Bailor) Sheerer had the following children: Marilyn, Nancy, Larry and Richard.

This house was built between 1911 and 1928 since it does not appear on the Sanborn Fire Insurance Map of 1911 but does appear on their 1928 map.

In 1958, John Leidy Sr. and Arthur Aumiller decided to provide ambulance service to the community. In 1960, Robert Stimmel donated a 1941 hearse for conversion as an ambulance. The service was operated by Fire Company Volunteers, with dispatching from the Stimmel Funeral Home. (In 1970 the borough purchased an alarm system that was placed in the Sheriff's Office, Mifflintown for dispatching.)

In 1999 the ambulance Division was separated from the Friendship Fire Company and the separated unit became the Port Royal Emergency Medical Services, Inc.

The house that had hosted the EMS operation was torn down in 2014 by the Friendship Fire Company to expand parking facilities for the Community Center that is located just north of the property.
| | |
| --- | --- |
| | Contributed by rkohler3 on 11/19/09 - Image Year: 1992 |
| | Contributed by rkohler3 on 2/28/13 - Image Year: 1958 |
| | Contributed by ray on 2/28/13 - Image Year: 1955 |
| | Contributed by rkohler3 on 10/18/10 - Image Year: 1964 |
| | Contributed by rkohler3 on 2/28/13 - Image Year: 1960 |
| | Contributed by rkohler3 on 3/28/14 - Image Year: 2014 |
| | Contributed by rkohler3 on 12/27/16 - Image Year: 2016 |
| | Contributed by rkohler3 on 10/19/19 - Image Year: 2017 |
| | Contributed by rkohler3 on 11/23/09 - Image Year: 1885 |
| | Contributed by rkohler3 on 11/23/09 - Image Year: 1889 |
| | Contributed by rkohler3 on 11/23/09 - Image Year: 1904 |
| | Contributed by rkohler3 on 11/23/09 - Image Year: 1911 |
| | Contributed by rkohler3 on 11/23/09 - Image Year: 1928 |