313 Milford Street
Milford St.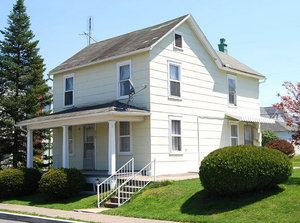 Click On Image To Enlarge
This house sits at the southeast corner of Milford and Fourth Streets. For about two thirds of the twentieth century, it was the home of the Harold and Martha (Crozier) Hartman family. Harold and Martha moved into the house upon a deed transfer of 27 Sep 1941 from 605 Main Street. The children of the family were: Harold Jr., Marianna, Amelia and Fred. The house was recently (2008) sold by the Hartman heirs to Megan Miller.

From realtor listings, it appears that the Millers sold the house in 2022.

This house was built before 1885 because it appears on the Sanborn Fire Insurance Map of that date.
| | |
| --- | --- |
| | Contributed by rkohler3 on 7/2/12 - Image Year: 2012 |
| | Contributed by rkohler3 on 10/11/12 - Image Year: 2012 |
| | Contributed by rkohler3 on 9/30/14 - Image Year: 2014 |
| | Contributed by rkohler3 on 9/30/14 - Image Year: 2014 |
| | Contributed by rkohler3 on 7/20/22 - Image Year: 2022 |
| | Contributed by ray on 7/20/22 - Image Year: 2022 |
| | Contributed by rkohler3 on 5/23/14 - Image Year: 2007 |
| | Contributed by rkohler3 on 11/23/09 - Image Year: 1889 |
| | Contributed by rkohler3 on 11/23/09 - Image Year: 1885 |
| | Contributed by rkohler3 on 11/23/09 - Image Year: 1904 |
| | Contributed by rkohler3 on 11/23/09 - Image Year: 1911 |
| | Contributed by rkohler3 on 11/23/09 - Image Year: 1928 |