Bank - Port Royal National
Market St.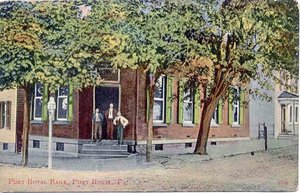 Click On Image To Enlarge
The Port Royal Times of September 11, 1890 reported the following. The contract for the erection of the new building of the Port Royal Branch Bank has been awarded to Mr. William A. McCahren of Turbett Township.

Although it had operated as a branch bank earlier, in 1894 an independent bank was started by William C. Pomeroy, under the title of the Port Royal Bank. (Firm name Pomeroy & Co.) When it was granted a national charter in 1919 it became The Port Royal National Bank.

Although the bank building had been opened in 1890 at the southeast corner of Third and Market Streets, that building was abandoned in 1926 when the bank moved into this new building at the southwest corner of Third and Market Streets. The older building would eventually reopen as the Port Royal Post Office.

In time the Port Royal National Bank merged with the First National Bank of Port Royal and that combined bank merged with the Juniata Valley National Bank.
| | |
| --- | --- |
| | Contributed by rkohler3 on 3/4/13 - Image Year: 1920 |
| | Contributed by rkohler3 on 8/3/09 - Image Year: 1930 |
| | Contributed by rkohler3 on 8/19/12 - Image Year: 1928 |
| | Contributed by rkohler3 on 9/11/09 - Image Year: 1933 |
| | Contributed by rkohler3 on 3/9/13 - Image Year: 1935 |
| | Contributed by rkohler3 on 8/3/09 - Image Year: 2009 |
| | Contributed by rkohler3 on 3/6/13 - Image Year: 1929 |
| | Contributed by ray on 3/4/13 - Image Year: 1940 |