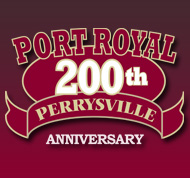 Leroy R. FELTY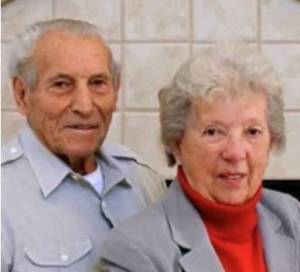 Click On Image To Enlarge
(Although he never resided in Port Royal, he was one of the most popular drivers in the early day of Penn Central racing at the Port Royal Speedway.)

OBITUARY for LEROY R. and BETTY FELTY

Leroy R. and Betty S. Felty of Lebanon, passed away on Sunday, April 30, 2023, at their home due to accidental carbon monoxide poisoning. On August 30th, they would have celebrated their 70th wedding anniversary.

Leroy was born in Pine Grove on September 22, 1928, to the late John H. and Eva Kreiser Felty Posey. Betty was born in Myerstown on February 17, 1934, to the late Isaac R. and Carrie Binner Schnoke.

Leroy served in the U.S. Navy during WWII and retired as a mechanic from Indiantown Gap. Betty had worked as a bookkeeper for the former Talbot Hall and as a clerk for North Lebanon Twp.

He was a member of the Williams Gove Old Timers Race Drivers Club, the Checkered Flag Fan Club with York Co. Auto Racing and the Eastern Museum of Motor Racing (EMMR).

Betty was also an associate member of those clubs, and a member of the Class of 1951 Myerstown High School. They were both members of the Ono United Methodist Church.

They are survived by their daughters Peggy F. wife of Charles Wike of Fredericksburg and Nancy L. Felty of Annville; Leroy's sister Eleanor Lerch of Port Ritchey, FL; Betty's brother Elwood (Eleanor) Schnoke of Myerstown; six grandchildren, thirteen great grandchildren and five great-great grandchildren.

Leroy was preceded in death by his son Larry Felty and brothers Elvin J. Felty, Sr. and Albert H. Felty. Betty was preceded in death by her sisters Pearl Emery, Ruth Scipioni and Stella Heim.

Funeral services will be held at 11:00 a.m. on Tuesday, May 9, 2023, at the Ono United Methodist Church, 9 Main St., Ono. There will be no viewing, but a visitation will be held beginning at 9:00 a.m. until the start of the service. Interment with military honors will follow at Indiantown Gap National Cemetery.

In lieu of flowers, memorial contributions may be made to his church at P.O. Box 126, Ono, PA 17077, or to EMMR, P.O. Box 688, Mechanicsburg, PA 17055.

Kreamer & Lum Funeral Home & Crematory, Jonestown is honored to serve the family.


SEPTEMBER SENIOR SPOTLIGHT – LEROY FELTY

Leroy Ray Felty was born September 22, 1928 at Outwood, near Pine Grove to John and Eva Kreiser Felty. He had two older brothers, Elvin and Albert and a younger sister, Eleanor Lerch.

My Felty grandparents owned Twin Grove Park and I got hit by a car along the road when I was only 4 years old (the road was dirt at the time.) My dad worked as a foreman when they built the Hershey Sports arena installing all the seats. At that time we lived in Annville where my dad built his own house, digging out the cellar by hand. My brothers and I helped, wearing miner's hats for the light.

In 1944 my father was killed at Lineweavers Stone Quarry in back of Hershey. My two brothers went off to the service and I quit school to help my mother. I got a job with Marlin Weaver Hatchery in Annville coloring baby chicks with food coloring. I also helped to build the silo. In 1946-1947 I was in the Navy serving in Okinawa, Guam and Hawaii while learning auto mechanics.

In 1948 I got married to Sylvia Fratrolli, daughter of Pomroy Fratrolli who ran the O Yes Hotel in Ono. We had a son, Larry born on October 3, 1949 and we divorced a year later.

I moved back to my mother who cared for my son. In 1951, I was introduced to Betty Schnoke from Mt Aetna at Bargaintown USA one Friday night. Her parents didn't feel she should see me until my divorce was final. She would go to the 2 race tracks in the Myerstown area to watch me race. After I was a free man again, I took her to Lincoln Speedway and put her in a 10 lap Powder Puff Race and she won! It paid her $25.00 and that was the start of our life together. We used the money to buy our marriage license. We got married at Myerstown Reformed Church on August 30, 1953. Our first daughter, Peggy was born August 4, 1954 and our second daughter, Nancy on January 14, 1956. I continued my week-end racing with my older brother, Elvin building my cars. We lived in West Lebanon and I worked for D.K. Wissler as an auto mechanic. In October we bought a small bungalow home outside of Ono and lived there until 1957. We sold the home to Ilene (Boyer) Schriver.

We moved to the apartment above the Mobile Gas Station, owned by Clayton Bixler, across the street from the Ono Diner. I ran the business until 1962 when we bought a home on South Lancaster Street in Jonestown with a large repair garage.

I continued racing part-time with Paul Shuey being my #1 fan. He took care of all my body work to the race car. I got awards for the Best Appearing Car and Crew. I had a racing accident in 1962 at Selinsgrove and while I was in the Lebanon Hospital, Paul had Rev. Strickler visit me with prayer. So one Sunday we felt we should go to Ono to church and have been here ever since.

Jobs were open at Indiantown Gap Military Reservation and I applied and got a job. My first day on the job was the day they had the funeral for President Kennedy in 1963. I worked there until my retirement in 1988.

In 1971 I drove race car with the United Racing, traveling week-ends to MD, DE, NJ, NY, etc. I won championships in 1971 and 1973.

Selling our home in Jonestown, we moved to AWOL and Ono Road in 1974. We built an "A" frame house which Rev. Strickler liked and copied some parts to build his house.

In 1988 after retiring, we decided to move to Florida, buying a house in Ft. Myers. Lots of Ono folks visited us there. We were part of the Methodist church and were hard workers. I did lots of repairs, built a new kitchen to serve 5 dinners per year as a fund raiser serving 250-400 people with Betty doing lots of the cooking. I also served as head usher. Rev. Dave Barr did 3 services at the church and stayed with us.

In 2012 I came down with Geiilain Barre and couldn't walk. Betty took me for treatment in Ft. Myers. I was in a wheelchair and couldn't work. After about a year, I got better and was back walking and working again. They told me that I would never get it back, which was good news. The family felt it was time to move back to PA, so in 2013, we bought a cottage at Juniper Village in Lebanon and we're back at Ono Church. You may see me at the Fredericksburg Legion ball field mowing grass and doing other maintenance where I volunteered.

We have 6 grandchildren: Larry Scott Felty, Holly Felty Collins, Tracy and Paul Wike, and Kasey and Jason Adams. Our 13 great grandchildren are Joshua Felty (dec.), Jacob Collins, Morgan and Wyatt Hevel, Beanne Meyers, Megan and Cody Wike, Austin, Klayton, Kolton, Karter Adams and Alex and Logan Adams.

Two great-great grandchildren complete our family: Logan Meyers and Jackson Wike.

The Lord has been good to us. Thank you for all the prayers.

Thank you, Leroy for sharing your life's story with us!
| | |
| --- | --- |
| | Contributed by rkohler3 on 5/15/23 - Image Year: 2020 |
| | Contributed by ray on 5/10/23 - Image Year: 1958 |