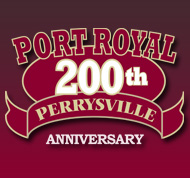 Betty Marie (PAIGE) BRACKBILL
Click On Image To Enlarge
OBITUARY for BETTY MARIE (PAIGE) BRACKBILL

Betty Marie (Paige) Brackbill, 93, of Port Royal, went to be with her Lord and Savior on Saturday, March 4, 2023, at Locust Grove Retirement Village, Mifflin, surrounded by her loving son and daughter.

She was born May 6, 1929 in Spruce Hill Township, the daughter of the late Harry M. and Mary (Klinger) Paige.

She is survived by a son, Dennis C. Brackbill and wife, Darla, of Port Royal, a daughter, Tena K. Kauffman and husband, John, of Mifflintown, grandchildren, Chad Kauffman and wife, Amy, Troy Brackbill and fiancé, Tasha Zimmerman, Billy Newman and wife, Angie, and Craig Brackbill, and great-grandchildren, Dylan Kauffman, Aiden and Evanse Brackbill, Tucker Deavor and Jack Newman.

Betty was preceded in death by her parents, Mary and Harry Paige, her husband, Otho C. Brackbill, brother, Jasper Paige, and son, Davy O. Brackbill.

She graduated from Tuscarora Valley High School in 1947. She married and shared 58 years with her husband, Otho, until his death in 2006. She worked at Rae Sel Dress Factory in Port Royal for many years. She was employed for a short time as a substitute cook for the Juniata County School District. She was a life-long and very active member at Matamoras United Methodist Church, serving as financial secretary among other responsibilities throughout the years.

She enjoyed sewing, crocheting, beading, and all kinds of crafts. She liked to read and watch TV. She especially enjoyed spending time with her family, friends, and especially her grandchildren and her great-grandchildren.

Her funeral will be held at 11 a.m. on Wednesday, March 8, at Matamoras United Methodist Church in Spruce Hill with Pastor Crystal Baumgardner officiating. Burial will be in Old Church Hill Cemetery, Port Royal.

There will be a viewing from 10 a.m. until the time of the services Wednesday at the church.

Donations in Betty's memory may be made to the Juniata County Food Pantry, 114 North Main Street, PO Box 44, Mifflintown, PA 17059 or to a charity of the donor's choice.

Guss Funeral Home, Inc., 20 S. Third St., Mifflintown, has care of the arrangements. Condolences may be left at www.gussfh.com.
| | |
| --- | --- |
| | Contributed by rkohler3 on 3/6/23 - Image Year: 1947 |