Post Office
Market St.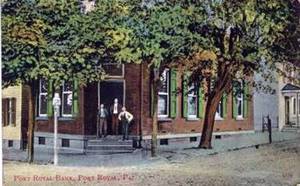 Click On Image To Enlarge
This building originally served as the Port Royal National Bank building. It was constructed in 1890 and was used as a bank until a new building was opened just across the street in 1926 at the southwest corner of Third and Market Streets.

Soon thereafter the building was used as the Port Royal Post Office and it remained in this use until a new Post Office building was constructed about two blocks north on Third Street.

Prior to the use of this building, the Post Office has been located in a variety of buildings, usually on Market Street between Second and Fourth Streets.

The building was being renovated by Eugene Longacre when he passed away.
| | |
| --- | --- |
| | Contributed by rkohler3 on 9/18/09 - Image Year: 1940 |
| | Contributed by rkohler3 on 12/25/10 - Image Year: 1955 |
| | Contributed by rkohler3 on 12/25/10 - Image Year: 1955 |
| | Contributed by rkohler3 on 9/24/09 - Image Year: 1975 |
| | Contributed by rkohler3 on 8/3/09 - Image Year: 2009 |
| | Contributed by rkohler3 on 7/14/11 - Image Year: 2010 |
| | Contributed by rkohler3 on 9/18/09 - Image Year: 2009 |