Janet Arlene "Arlene" (CAMPBELL-SHIRK) ZEIGLER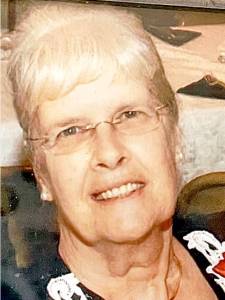 Click On Image To Enlarge
OBITUARY for JANET ARLENE ZEIGLER

It is with profound sadness that we share the passing of Janet Arlene Zeigler on Aug. 28, 2022, at the age of 84 years.

Janet Arlene was born on July 15, 1938, in Lewistown, to the late Clyde W. Campbell Sr. and Rachel Autumner (Plank) Campbell. Due to the death of her mother when "Arlene" was 4 years old, she went to live with and was adopted by George W. Shirk Jr. and Sarah Essalinda Shirk. She lived in Port Royal until her marriage to Charles Glen Zeigler in 1955.

Arlene and Glen are the proud parents of Cindy Lujean Zeigler Harpster Harrison, Robert Glen Zeigler and Kenneth George Zeigler. The family was blessed to add sons-in-law: Carl D. Harpster and recently, Robert W. Harrison; and daughters-in-law, Dawn Annette McGinnis Zeigler and Cheryl Kimbrough Zeigler.

To Arlene and Glen's delight were the births of their seven grandchildren, who have each grown into fine adults. These grandchildren include: Bill and Carla Cooper, Jeb and Cherie Miller, Don and Rebekah Samples, Maj. Christopher Harpster, Eric and Elizabeth Bowden, Jarred and Allison Fullerton, and Airman Dillon and Grace Christie. Arlene's great- grandchildren now num- ber 15, including: Logan, Billy, Caitlin, Shelby, Alivia, Blake, Samuel, Brantley, Bennett, Sadie, Bridgette, Silas, Sienna, Norah and Eliana.

Love of family has always been a driving force in Arlene's life. Although she was separated from her siblings after her mother's death, the entire family was reunited and maintained a strong family bond due to the faith of her father and the faithfulness of her Heavenly Father, as well as the fortitude of each sibling and their spouses including: Clyde and Bev (Fink) Campbell, John and Martha (Miller) Campbell, JoAnn Froeming, Don and Lynn Campbell, Gloria and Rick Cook, Jim and Stefanie Campbell, and preceding her in death were Pauline Campbell Long and Glenn Campbell.

Janet's primary employers throughout her life were The American Viscose Co., FMC and Lewistown Hospital as an admissions clerk until her retirement in 1992.

Her funeral service will be held at 11 a.m. Thursday, Sept. 1, 2022, at Henderson-Bohn Funeral Home, Reedsville. Burial will take place at New Lancaster Valley Ceme- tery following the service. Her family will receive friends from 6 to 8 p.m. Wednesday at the funeral home.

Online condolences may be offered at www.bohnfuneralhome.com.
| | |
| --- | --- |
| | Contributed by rkohler3 on 8/30/22 - Image Year: 1955 |