101 East Second Street
Second St.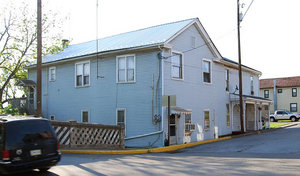 Click On Image To Enlarge
This building may have two or three living units.

At one time the bottom left of the building housed Dillon's Tin and Auto Repair Shop, Bousum's Store and later Luther Dimm's Store. Cora Dimm had a millinery shop in part of the building. Eventually the Great Atlantic and Pacific Tea Company "A&P" would open a store at this location and Elliott Towsey was the Manager, Darwin "Skip" Kohler was the Assistant Manager. Prior to her marriage, Harriet (Wagner) Zimmerman was a clerk.

Early in their marriage, Skip and Margaret Kohler lived in the upstairs apartment of this building.

WORK ON PORT ROYAL BRIDGE TO BEGIN THURSDAY
(From the Sentinel Sep 13, 2022)

PORT ROYAL — PennDOT will begin preliminary work Thursday to replace a Route 75 bridge spanning the Norfolk Southern Railroad in Juniata County.

The project will start with demolition work on a two-story building located at 101 Second St. in Port Royal Borough.

The contractor will implement intermittent single-lane closures between First and Third streets while completing the demolition work. Flaggers in the roadway will provide traffic control during these closures. Starting Thursday, drivers should build extra time into their travel schedules to avoid delays if they pass through the work zone during one of these closures.

PennDOT anticipates work on the bridge beginning in early January and continuing through mid-July. The contractor will close the roadway and implement a detour while the bridge is demolished and replaced. PennDOT will issue an update on the project with details and mapping for the detour route before implementation of the closure.
| | |
| --- | --- |
| | Contributed by rkohler3 on 9/29/09 - Image Year: 2002 |
| | Contributed by rkohler3 on 3/3/13 - Image Year: 1920 |
| | Contributed by rkohler3 on 3/11/13 - Image Year: 1900 |
| | Contributed by dposavec on 7/3/13 - Image Year: 2013 |
| | Contributed by rkohler3 on 9/20/22 - Image Year: 2022 |
| | Contributed by rkohler3 on 10/1/22 - Image Year: 2022 |
| | Contributed by rkohler3 on 10/1/22 - Image Year: 2022 |