Mary Eleanor (ARD) MCCAHAN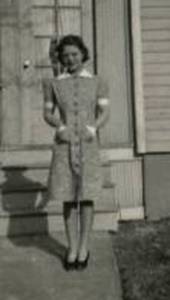 Click On Image To Enlarge
OBITUARY for ELEANOR ARD MCCAHAN

PORT ROYAL: Eleanor A. McCahan, 88, of the Beverly Healthcare Nursing Home, Gettysburg and formerly of Port Royal, died at 3:15 p.m., Thursday, Oct. 28, 2004 at the home.

She was born April 6, 1916, in Spruce Hill Twp., Juniata County, to the late William and Edith (Haines) Ard.

She was married to Jay A. McCahan on Jan. 1, 1939, who preceded her in death on March 23, 1948.

She is survived by one nephew, W. Ray Kohler of West Deptford, N.J. She was preceded in death by one sister, Margaret Ard Kohler and a brother, Ray Ard.

She was a 1933 graduate of the Port Royal High School and a member of the Port Royal United Methodist Church.

Graveside services will be held at 10:30 a.m., Wednesday, Nov. 3 at St. Stephen's Lutheran Church Cemetery in Licking Creek Valley, Juniata County, with the Rev. Kenneth R. Kitzmiller officiating. There will be no viewing.

Rex Funeral Home, Port Royal is in charge of the arrangements.
| | |
| --- | --- |
| | Contributed by rkohler3 on 12/31/20 - Image Year: 1943 |
| | Contributed by rkohler3 on 1/4/21 - Image Year: 1929 |
| | Contributed by ray on 1/4/21 - Image Year: 1931 |
| | Contributed by rkohler3 on 3/25/21 - Image Year: 1933 |