316 Tuscarora Street (Fiddler's Green)
Tuscarora (Fiddler's Green) St.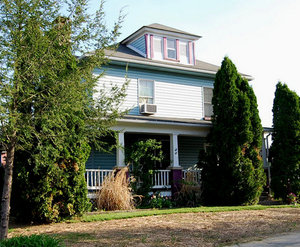 Click On Image To Enlarge
This house sits on the corner of Tuscarora and Fourth Streets. It is now (2004) occupied by Roger and Dawn Burd. It was built by Blain Shover and wife Jennie Moyer Shover. They, along with their two children, Dorothy and Blain, lived there for many years. Warren and Mary Prye purchased house from Blain Shover and lived there with their daughter Mary Margaret. Dan and Jessie Kennedy were the next owners of this property. The Kennedy's sold the home to Tim Wehler who in turn sold it to the Burd's.

This house was built between 1911 and 1928 because if appeared on the Sanborn Fire Insurance Map of that year but did not appear on their 1911 map.
| | |
| --- | --- |
| | Contributed by rkohler3 on 5/5/14 - Image Year: 2007 |
| | Contributed by rkohler3 on 11/29/09 - Image Year: 1885 |
| | Contributed by rkohler3 on 11/29/09 - Image Year: 1889 |
| | Contributed by rkohler3 on 11/29/09 - Image Year: 1904 |
| | Contributed by rkohler3 on 11/29/09 - Image Year: 1911 |
| | Contributed by rkohler3 on 11/29/09 - Image Year: 1928 |