310 Tuscarora Street (Fiddler's Green)
Tuscarora (Fiddler's Green) St.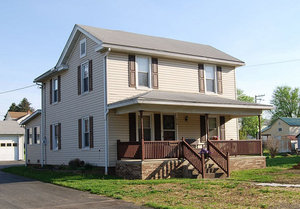 Click On Image To Enlarge
This home where Barbara Bergstresser lives was the home of Barbara's late husband Bobby. (Barbara has been the mayor of Port Royal for a number of years.) His parents Robert and Verna Bergstresser, along with their children Louise, Bobby, Paula and Deena lived there. Bobby purchased the home after his parents' death. A Dowling family lived there before the Bergstressers.

(Recollection from JoAn Bashore Slautterback of the houses, owners, and occupants of Fiddlers Green, from the late 30s and 40s. as published in the Port Royal Times 2004.)

This house was built between 1911 and 1928 because it did not appear on the Sanborn Fire Insurance Map of 1911 but did appear on their 1928 map.
| | |
| --- | --- |
| | Contributed by rkohler3 on 5/5/14 - Image Year: 2007 |
| | Contributed by rkohler3 on 11/29/09 - Image Year: 1885 |
| | Contributed by rkohler3 on 11/29/09 - Image Year: 1889 |
| | Contributed by rkohler3 on 11/29/09 - Image Year: 1904 |
| | Contributed by rkohler3 on 11/29/09 - Image Year: 1911 |
| | Contributed by rkohler3 on 11/29/09 - Image Year: 1928 |