Nancylee (HORNING) GRAY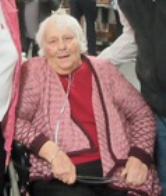 Click On Image To Enlarge
OBITUARY for NANCYLEE H. GRAY

Nancylee H. Gray, 77, of Honey Grove, passed away at 2:06 PM on Monday, February 18, 2019 at her residence.

Born on February 10, 1942 in Lewistown, Mifflin Co., she is a daughter of the late Norman Lee and Helen (Gilliford) Horning.

She was married to her late husband, Raymond B. Gray, with whom she was blessed to share many years of marriage before his passing on December 30, 2004.

Nancylee was a 1960 graduate of Tuscarora Valley High School. In addition to working beside her husband on the family farm, she was employed as a Sales Clerk with Foss's Jewelry and Mac's Clothing, both of Mifflintown.

Mrs. Gray was a member of the Port Royal United Methodist Church and the Red Hatters Society.

She is survived by her son, Raymond Lee Gray and his wife Kimbra Jo of Honey Grove; eight grandchildren, Heather Leigh Imes, Rachel Arlene Murphy and her husband Michael, William Lee Gray, Shelbylynn Kilmer and husband Nathan, Darwin Tyler Long, Travis Banks Long, Casey Ann Gray, and Samantha Rae Gray; and four great-grandchildren.

In addition to her parents and husband, she was preceded in death by a son, Norman B. Gray; a daughter, Cynthia J. "Cindy" Long; and a daughter in infancy, Karen Ann Gray.

Funeral Services will be held at 10:30 a.m. on Friday, February 22, 2019 at the Brown Funeral Homes, Inc., 100 Bridge St., Mifflintown, with Pastor Barbara Inch officiating. Interment will follow at Old Church Hill Cemetery, Port Royal, PA

A viewing will be held from 6-8 PM on Thursday, February 21, 2019 at the funeral home.
| | |
| --- | --- |
| | Contributed by rkohler3 on 3/3/19 - Image Year: 1958 |