Patsy (KIPP) VACLAVIK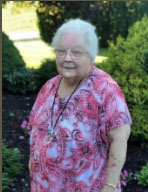 Click On Image To Enlarge
OBITUARY for PATSY A. (KIPP) VACLAVIK

Patsy A. (Kipp) Vaclavik, 82,.passed away, Tuesday, August 18, 2020, at Colonial Park Care Center.

She did not have her loving family by her side because this hateful pandemic took away the privilege of her children getting to visit her in her final days.

Pat was born on August 5, 1938 to Sarah Emily (Smith) Kipp and Charles H. Kipp. She married the love of her life, Dr. Richard A. Vaclavik on June 8, 1957.

Pat was a gifted artist, quilter, and musician. She lived for her children and grandchildren, and enjoyed being part of all of their activities. She was a troop leader for the Girl Scouts for over 20 years. She directed the children's and youth choirs at Peace United Church of Christ for many years. She was active in the PTO and Band Boosters. Whatever her children did, she supported.

Pat was a 1956 graduate of Tuscarora Valley High School.

Pat was a registrar for the Pennsylvania Bureau of Vital Statistics until her death. Her work gave her purpose and kept her active.

She is survived by her children Kathryn Vaclavik, Steven (Cheryl) Vaclavik, and Jennifer (Jonathan) Keeler; her grandchildren Alex & Sarah Vaclavik, Nathaniel & Sofia Moreno, Anna & Sydney Keeler; her sister Frances Welfley; brothers-in-law Dr. Charles Vaclavik and Harry Pepe; and sisters-in-law Katie Vaclavik and Evelyn Pepe; and numerous nieces and nephews.

She was preceded in death by her husband Richard A. Vaclavik, VMD; her sisters Esther Ritzman, Myrle Bitting, and Mary Louise Kipp; brothers Charles Kipp, Mervin Kipp, Jay Kipp and Robert Kipp.

Pat was a member of St. John's United Church of Christ in Red Lion, PA.

Burial was private at Riverview Memorial Gardens, Halifax.

The family requests that memorial donations may be made to American Diabetes Association, 301 Chestnut St, Harrisburg, PA 17101; or American Cancer Society, 112 Sipe Ave, Hummelstown, PA 17036.

Hoover-Boyer Funeral Home, Ltd, Millersburg was in charge of the arrangements.
| | |
| --- | --- |
| | Contributed by rkohler3 on 9/25/18 - Image Year: 1956 |
| | Contributed by rkohler3 on 9/25/18 - Image Year: 1956 |
| | Contributed by rkohler3 on 9/26/18 - Image Year: 1956 |