Helen Lois (CRIMMEL) SIEBER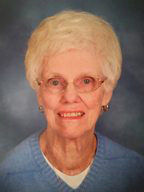 Click On Image To Enlarge
OBITUARY for HELEN L. SIEBER

Helen L. Sieber, of Port Royal, passed from this world on Palm Sunday, March 25, 2018, at the age of 87.

Mrs. Sieber is survived by: two sons, John R. Sieber, Ph.D. and wife Linda, of Gaithersburg, Md., and Matthew S. Sieber and wife, Susan, of Mifflin; and one daughter, Karen B. Stroup and husband, Roger, of York Springs. Also surviving are six grandchildren and two great-grandchildren.

She was the daughter of the late John Melvin and Sarah Emery Crimmel, and the sister of the late Robert J. Crimmel, of Mifflintown. Her husband of 59 years, Richard O. Sieber, preceded her in death on Sept. 3, 2012.

A 1948 graduate of Tuscarora Valley High School, Helen started a career in banking in Harrisburg. She came to the Juniata Valley National Bank as a teller in the Port Royal office [then the First National Bank of Port Royal]. By retirement, she had risen to the office of vice president and loan officer of the bank. She was the first female branch manager, running the main office in Mifflintown, until retirement at age 68.

Born in Port Royal on Oct. 14, 1930, and raised in Locust Run and on Tuscarora Street, Port Royal, Helen played piano for services at the United Methodist Church as a young woman. Later in life, she served the Lutheran Church as bookkeeper and made calls to those served by the Lutheran Church Care Meals Program.

Services, with her pastor Rev. Charles L. Hershberger, of the Port Royal Parish, of the Evangelical Lutheran Church officiating, will be held at 11 a.m. Saturday, March 31, 2018, at Rex Funeral Home, Market Street, Port Royal.

A viewing will be held at 10 a.m., prior to the service.

All flowers will be furnished by the family. In lieu of flowers, donations may be made to the Lutheran Church Care Meals Program of the Port Royal Evangelical Lutheran Church, P.O. Box 267, Port Royal, PA 17082.

Graveside services at Old Church Hill Cemetery will be limited to family members.
| | |
| --- | --- |
| | Contributed by rkohler3 on 5/11/17 - Image Year: 1948 |
| | Contributed by rkohler3 on 5/12/17 - Image Year: 1948 |
| | Contributed by rkohler3 on 5/12/17 - Image Year: 1998 |
| | Contributed by rkohler3 on 5/12/17 - Image Year: 2008 |