Theodore "Ted" BERGSTRESSER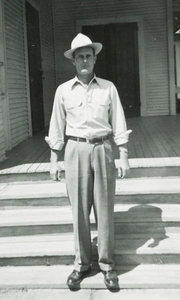 Click On Image To Enlarge
OBITUARY for THEODORE "TED" BERGSTRESSER

PORT ROYAL -- Theodore W. Bergstresser, 41, of Port Royal, died Tuesday [23 MAR 1965] in a one-car accident between Mifflin and Port Royal.

He was the owner of Ted's Auto Sales here.

Mr. Bergstresser was a World War II veteran and a member of the Port Royal Methodist Church, the American Legion and Veterans of Foreign Wars posts, Mifflintown and the Loyal Order of Moose, Lewistown.

He is survived by his wife, Mrs. Mary Coder Bergstresser, a son, William U., with the U.S. Air Force in Germany; his parents, Mr. and Mrs. Dean E. Bergstresser, Sr., Port Royal; three sisters, Mrs. Andrew Zendt, Mifflin, Mrs. Louise Barner, Port Royal, and Mrs. Quig Hockenberry, East Berlin; and two brothers, Robert A. and Dean E. Jr., both of Port Royal.

Services will be held Saturday at 2 p.m. at a Market Street funeral home. The Rev. Elmer Clouser, his pastor, will officiate. Burial will be in New Church Hill Memorial Park.

Graveside military services will be conducted by the American Legion post. Friends may call at the funeral home Friday after 7 p.m.
| | |
| --- | --- |
| | Contributed by rkohler3 on 4/13/17 - Image Year: 1941 |