Bridge - Tuscarora Creek - Route 75
Route 75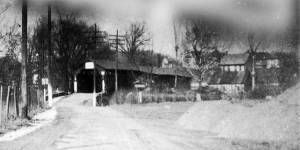 Click On Image To Enlarge
The first covered bridge across Tuscarora Creek, to Old Port, was built in 1818 and was one of the first bridges built in Juniata County. It was erected by Thomas Henderson and Solomon Rice and was apparently built by public contributions. Thomas Turbett (father of Stewart and William Turbett) was the treasurer of the company. Investors could make their contribution in labor or money. The original bridge, which cost a total of $1,480.24, had no roof, but after about 20 years of usage, a roof was added.

It was swept away in the June flood of 1889. That year, folks from the western part of the County, who wished to go to the Juniata County Fair, were taken across the Creek in wagons, if they were fearful to walk across on a rather flimsy temporary foot bridge.

Another wooden covered bridge was built on the same site about 1890. This remained in use until 1932 when it was torn down and replaced with a steel and concrete bridge.

The steel and concrete bridge was torn down and replaced by a new structure in 2008.
| | |
| --- | --- |
| | Contributed by rkohler3 on 9/24/09 - Image Year: 1889 |
| | Contributed by rkohler3 on 10/11/20 - Image Year: 1889 |
| | Contributed by rkohler3 on 3/21/13 - Image Year: 1900 |
| | Contributed by garthe on 9/19/09 - Image Year: 1910 |
| | Contributed by rkohler3 on 9/23/09 - Image Year: 1900 |
| | Contributed by rkohler3 on 9/23/09 - Image Year: 1915 |
| | Contributed by rkohler3 on 9/23/09 - Image Year: 1915 |
| | Contributed by rkohler3 on 12/29/10 - Image Year: 1932 |
| | Contributed by rkohler3 on 3/27/20 - Image Year: 1933 |
| | Contributed by rkohler3 on 9/23/09 - Image Year: 1950 |
| | Contributed by rkohler3 on 9/25/09 - Image Year: 1972 |
| | Contributed by rkohler3 on 4/6/21 - Image Year: 2008 |
| | Contributed by rkohler3 on 9/23/09 - Image Year: 2008 |
| | Contributed by ray on 3/27/20 - Image Year: 2008 |
| | Contributed by ray on 3/27/20 - Image Year: 2009 |
| | Contributed by rkohler3 on 10/2/09 - Image Year: 2009 |
| | Contributed by rkohler3 on 10/17/21 - Image Year: 2021 |