James Ross "Jim" BARTON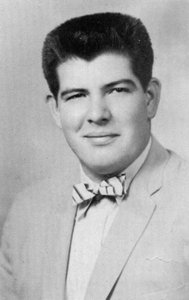 Click On Image To Enlarge
OBITUARY for JAMES R. BARTON

PORT ROYAL - JAMES R. BARTON, 60, of Port Royal RR2. died at I 1:55 p.m. Wednesday, June 7, 2000, at Geisinger Medical Center, Danville.

Born April 18, 1940, in Lewistown, he was the son of M. Maxine (Wharton) Barton of Port Royal RR2 and the late J. Theron Barton.

His wife, Donna J. (Yoder) Barton, whom he married August 3, 1968, survives.

Also surviving are; children, Mrs. Boyd (Debra) Foltz and Robert R. Barton, both of Port Royal RR1 and Raymond J. Barton, Port Royal RR2; a sister, Mrs. Richard (Betty Jo) Flood Jr., Port Royal RR2; and two grandchildren.

He was preceded in death by a sister, M. Sandra Frederick on April 16, 1996.

He was a 1958 graduate of Tuscarora Valley High School, Port Royal. He was owner and operator of Barton's Meats, Port Royal RR2. He was a member of Turbett Grange 781 .

Services will be held at 2 p.m Sunday at the Rex Funeral Home, Port Royal, with the Rev. Frank J. Swartz officiating. Interment will be in Mccoysville Cemetery, Juniata County. Friends may call from 7-9 p.m Saturday at the funeral home. Memorial contributions may be made to: the Friendship Fire Company, PO Box 274, Port Royal, PA 17082.
| | |
| --- | --- |
| | Contributed by rkohler3 on 5/5/16 - Image Year: 1958 |
| | Contributed by rkohler3 on 5/5/16 - Image Year: 1968 |