Church - Lutheran
Market St.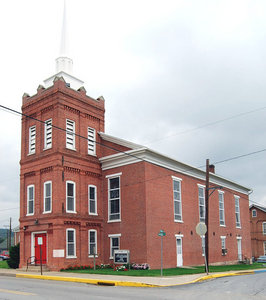 Click On Image To Enlarge
From 1832 to 1852, the German Lutherans and the Presbyterians both held their religious services in Rice's Church at Church Hill.

The Lutherans and Presbyterians continued to hold their services in Rice's Church until 1852. At that time the Presbyterians built a church of their own in Perrysville (Port Royal) and withdrew from Rice's Church.

In 1854, the Lutherans decided that they, too, would build a church in Perrysville. On April 19, 1854, David Kepner and Christian Hartman, trustees of the Perrysville Lutheran Congregation, purchased from John Kepner, for the sum of $200, a parcel of ground situated on Market Street in the Borough of Perrysville.

The cornerstone for the new church was laid on August 6, 1854; and by August of the following year, the church building was completed. Dedication services were held on August 5, 1855.

The two-story building, made of brick, was seventy-five feet long by forty-five feet wide. The first floor was used for Sunday School and social activities. The main auditorium was on the second floor with a large gallery on three sides and had a seating capacity of 600 persons. The cost of the building was about $5,000. It has been in constant use since that time.
| | |
| --- | --- |
| | Contributed by rkohler3 on 5/24/14 - Image Year: 2007 |
| | Contributed by ray on 12/27/10 - Image Year: 1964 |
| | Contributed by rkohler3 on 8/3/09 - Image Year: 2009 |
| | Contributed by rkohler3 on 9/11/09 - Image Year: 1880 |
| | Contributed by rkohler3 on 8/3/09 - Image Year: 1935 |
| | Contributed by rkohler3 on 3/9/13 - Image Year: 1940 |
| | Contributed by rkohler3 on 3/11/20 - Image Year: 1930 |
| | Contributed by rkohler3 on 7/14/11 - Image Year: 1940 |
| | Contributed by rkoher3 on 9/7/09 - Image Year: 1978 |
| | Contributed by rkohler3 on 9/4/09 - Image Year: 1992 |
| | Contributed by rkohler3 on 6/8/12 - Image Year: 2012 |
| | Contributed by rkohler3 on 7/1/12 - Image Year: 2012 |
| | Contributed by rkohler3 on 10/11/12 - Image Year: 2012 |
| | Contributed by rkohler3 on 11/20/09 - Image Year: 1889 |
| | Contributed by rkohler3 on 11/20/09 - Image Year: 1904 |
| | Contributed by rkohler3 on 11/20/09 - Image Year: 1911 |
| | Contributed by rkohler3 on 11/20/09 - Image Year: 1928 |