Graham E. TAYLOR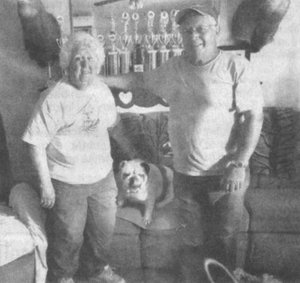 Click On Image To Enlarge
GRAHAM TAYLOR was born in Spruce Hill Township, a son of the late Chauncey S. and Pearl (McCormick) Taylor. Graham married Betty Weaver in 1957 and they have a son Larry and daughters, Denise and Penny.

Graham has spent much of his adult life as a race car driver. He began racing modifieds in 1963 at the Port Royal Speedway, where he won the track championship in '84 and '85. He switched to the ARCA division of NASCAR from 1988 through 1994.

In 2006 his focus shifted to drag racing. He and his children compete regularly at Beaver Springs Dragway. At the age of 75 [2014], Graham still has racing in his blood.

During the late 1900s, Graham and his son Larry owned and operated the garage that is located at the west end of Town Lane where Route 333 intersects with Route 75.
| | |
| --- | --- |
| | Contributed by rkohler3 on 8/30/14 - Image Year: 1990 |
| | Contributed by rkohler3 on 8/31/14 - Image Year: 2011 |
| | Contributed by rkohler3 on 8/31/14 - Image Year: 2009 |
| | Contributed by rkohler3 on 9/2/14 - Image Year: 1954 |