Clothing Factory - Rae-Sel
Fourth St. (Fairview)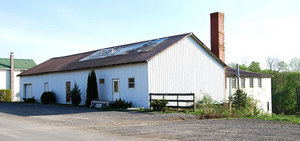 Click On Image To Enlarge
This was one of the clothing factories located in Port Royal. (There was a wollen mill just after the Civil War, an underwear and shirt factory on Fiddler's Green during World War I and although it didn't produce clothing, there was also a silk mill in the latter area.)

According to an article in a 1922 issue of the Port Royal Times, a New York City shirt manufacturer, Philip-Jones Corp. built this facility and operated it beginning in that year. The article says that they plan to hire about 80 persons when fully staffed. (The article also says that they employed 35 people at an earlier location in the town.)

At some point this building served as a banquet hall. And at one time there was also an egg plant. This egg enterprise apparently ended when a fire occurred.

This was one of the more successful enterprises in Port Royal and provided employment for many people over an extended period of time.

In the early 1940s the site was under the ownership of a company known as Wallick - Schwalm.

The site was last used by Rae-Sel (a clothing producer that ceased operation in 1985).
| | |
| --- | --- |
| | Contributed by rkohler3 on 8/31/11 - Image Year: 2011 |
| | Contributed by rkohler3 on 10/19/19 - Image Year: 2000 |
| | Contributed by rkohler3 on 5/15/14 - Image Year: 2007 |
| | Contributed by rkohler3 on 10/19/19 - Image Year: 1955 |