Church - Presbyterian
Main St.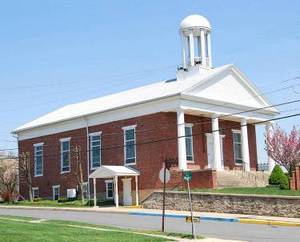 Click On Image To Enlarge
The Presbyterian congregation and the Lutheran congregation shared a structure at Church Hill from 1832 until 1852 with each using the building on alternate Sundays. This arrangement ended when in 1852 the current brick structure was erected. The Port Royal Presbyterian Church has been at this location at 4th and Main Streets since that time.

The following note appeared in the Oct. 9, 1907 issue of the Port Royal Times: "Services were resumed in the Port Royal Presbyterian Church on Sunday after having been closed for 3 months, during which time the interior of the building underwent repairs. The new metal ceiling, beautifully decorated, and the handsome side walls, made the church one of the most attractive in the county. Acetylene lights are being installed and when all the details are completed the congregation can look with much pleasure upon their place of worship."
| | |
| --- | --- |
| | Contributed by rkohler3 on 9/14/09 - Image Year: 2009 |
| | Contributed by rkohler3 on 3/21/13 - Image Year: 2012 |
| | Contributed by rkohler3 on 3/10/13 - Image Year: 1900 |
| | Contributed by rkohler3 on 8/31/09 - Image Year: 1909 |
| | Contributed by rkohler3 on 8/31/09 - Image Year: 1912 |
| | Contributed by rkohler3 on 8/17/11 - Image Year: 1910 |
| | Contributed by ray on 8/17/11 - Image Year: 1910 |
| | Contributed by rkohler3 on 6/13/20 - Image Year: 1910 |
| | Contributed by rkohler3 on 8/3/09 - Image Year: 1914 |
| | Contributed by rkohler3 on 1/1/13 - Image Year: 1944 |
| | Contributed by rkohler3 on 5/21/14 - Image Year: 2007 |
| | Contributed by rkohler3 on 11/27/09 - Image Year: 1885 |
| | Contributed by rkohler3 on 11/27/09 - Image Year: 1889 |
| | Contributed by rkohler3 on 11/27/09 - Image Year: 1904 |
| | Contributed by rkohler3 on 11/27/09 - Image Year: 1911 |
| | Contributed by rkohler3 on 11/27/09 - Image Year: 1928 |