Canal - Pennsylvania Canal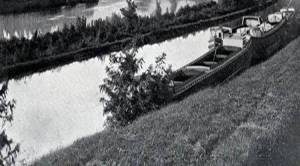 Click On Image To Enlarge
PENNSYLVANIA CANAL: The Pennsylvania Canal ran along the east bank of the Juniata River. This portion of the canal was part of the Central Division of the Canal, extending along the Susquehanna and Juniata Rivers from Columbia to Hollidaysburg, 172 miles. The lockage in this division was 747 feet. There were 18 dams, 33 aqueducts and 101 locks. The canal was forty feet wide at the top, twenty-eight feet wide at the bottom, and four feet deep.

The portion of the Central Division along the Juniata River was sometimes known as the Juniata Division Canal. The Juniata Division Canal was approved in segments starting in 1827 with a canal from near Duncan's Island in the Susquehanna River to Lewistown, 40 miles (64 km) upstream. Subsequently the state agreed to extend the canal to Hollidaysburg and the eastern end of the Allegheny Portage Railroad, 127 miles (204 km) from the Susquehanna. A total of 86 locks were required to overcome a change in elevation of 584 feet (178 m) over the full length of the canal, which opened in 1832.

From the canal basin, westbound boats began their journey by being elevated about 10 feet (3 m) by a lock that brought them to the level of a wooden aqueduct on which they were towed 600 feet (183 m) to the south side of the Juniata. At North's Island, 18 miles (29 km) from the Susquehanna, they were towed to the north side of the river across a slack water pool formed by a dam. From North's Island to Huntingdon, the river was dammed in three more places to feed water to the canal, and above Huntingdon, 14 more dams were needed to create 16 miles (26 km) of slack water navigation in the river to supplement 22 miles (35 km) miles of travel in segments of canal. In addition, the state built three reservoirs on Juniata tributaries to keep the upper parts of the canal filled with water.

The Pennsylvania Canal operated at peak capacity for about twenty-three years, but historians acknowledge that the engineering marvel was at least partly obsolete within five years after its completion. Steam locomotives on modern rail lines proved faster and more efficient as a means for commercial transportation. Between 1835 and 1850, more railroad building was done in Pennsylvania than in any other state. These tracks formed the nucleus of the Pennsylvania Railroad.
| | |
| --- | --- |
| | Contributed by ray on 8/16/19 - Image Year: 2000 |
| | Contributed by rkohler3 on 5/30/13 - Image Year: 1983 |
| | Contributed by rkohler3 on 5/30/13 - Image Year: 1983 |
| | Contributed by ray on 8/16/19 - Image Year: 1845 |
| | Contributed by ray on 5/30/13 - Image Year: 1950 |
| | Contributed by rkohler3 on 8/16/19 - Image Year: 1845 |
| | Contributed by rkohler3 on 2/24/14 - Image Year: 1830 |