Garage - Frankhouse - Taylor-Eby
Sixth St.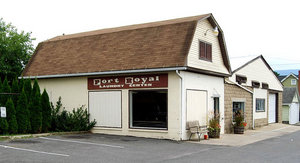 Click On Image To Enlarge
During the middle part of the Twentieth Century Joseph Frankhouse operated a new car dealership in Port Royal. Joe sold Pontiacs and Buicks and repaired and serviced cars at his garage. For approximately thirty years the office and showroom area of the building was housed in the current Port Royal Laundromat which was located on Sixth Street behind Joe's residence on 515 Market Street.

Prior to ownership by Joe Frankhouse, this garage was Ted Taylor and Frank Eby. There was no new car dealership associated with this Taylor-Eby enterprise.
| | |
| --- | --- |
| | Contributed by ranjude on 3/20/21 - Image Year: 1930 |
| | Contributed by ranjude on 3/20/21 - Image Year: 1930 |
| | Contributed by ranjude on 3/20/21 - Image Year: 1930 |
| | Contributed by rkohler3 on 3/11/13 - Image Year: 1936 |
| | Contributed by rkohler3 on 3/13/13 - Image Year: 1949 |
| | Contributed by rkohler3 on 3/11/13 - Image Year: 1950 |
| | Contributed by rkohler3 on 3/14/13 - Image Year: 1953 |
| | Contributed by rkohler3 on 4/12/20 - Image Year: 1955 |
| | Contributed by rkohler3 on 4/15/20 - Image Year: 1955 |